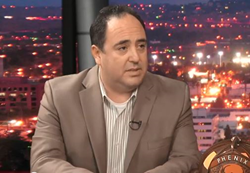 In a lot of ways, as a small business, we wouldn't have this capability; couldn't afford to hire the consultants
Riverside, CA (PRWEB) March 18, 2014
They've already made a name for themselves in the U.S. So, Phenix Technology, Inc. turned to the Riverside County Office of Foreign Trade to help the company take its all American made fire helmets to firefighters around the world.
Export Magazine talked with Phenix Technology, Inc. Chief Operations Officer, Angel Sanchez, Jr., about how the Riverside-based small business received the expertise it needed to expand in Asia, Australia, Africa and Latin America.
Phenix Technology, Inc. was founded nearly 40 years ago by two firefighters, Ronny Coleman and Ray Russell, who collected fire helmets. "They came to an agreement that they weren't happy with the helmets being produced and being used by firefighters in the United States," Sanchez said. "So they took hundreds of helmets that they had in their collection and analyzed what they thought were the best features, and essentially created what is the best firefighting helmet on the market today."
Phenix helmets have earned a reputation among U.S. firefighters as high-end, ergonomically designed, low profile safety gear that is comfortable to wear for hours on end. While the company strived for a larger market share across the country, the big growth opportunities were overseas, said Sanchez. The question was how to do that.
That's when Sanchez went to the Riverside County Economic Development Agency's Office of Foreign Trade and said, "What do you have for us."
"They've essentially enriched our business to help us expand or enter these foreign markets," Sanchez said. "In a lot of ways, as a small business, we wouldn't have this capability; couldn't afford to hire the consultants that would charge tens or hundreds of thousands of dollars just for us to gain even a fraction of the knowledge that we've gained by working with Riverside County."
He said, Phenix received a lot of market information and support from the EDA's Foreign Trade Office. Riverside County is among the few in California to offer the expertise Phenix Technology, Inc. needed to grow to more than80 distributors worldwide.
The County also offered financial assistance which resulted in Phenix Inc. hiring more fulltime workers. Sanchez said they increased staffing levels by more than 30% over the last two years, and they plan to hire more fulltime employees. In turn, all of their local suppliers have hired more people to meet Phenix Inc.'s production needs.
Most of those suppliers and manufacturers are a 10 minute drive away, Sanchez said. Keeping it all local has also helped Phenix Inc. maintain a higher level of quality control. "We like that if we see a defect or something, we can just jump in the car and go have a face to face with them."
Sanchez admitted Phenix Technology, Inc. could improve its bottom line if they outsourced production to cheap overseas labor markets. But that's not the way they want to make their firefighter helmets. "We're proud of our American made products. They don't cost that much more when you run your business correctly. The quality is just far better."