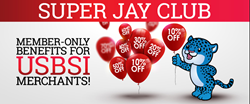 The Super Jay Club is a member-based loyalty discount program sponsored by USBSI and its program partners.
City of Industry, CA (PRWEB) March 25, 2014
US Bankcard Services, Inc. (USBSI) is proud to offer to its valued merchants membership in the Super Jay Club. The Super Jay Club is a member-based loyalty discount program sponsored by USBSI and its program partners. As a Super Jay Club member, merchants can sign up for a variety of generous discounts.
Membership in the Super Jay Club is exclusively granted to USBSI merchants and their families, with significant program discount rates offered completely free of charge. Super Jay Club benefits include: discounted monthly membership with no initiation fee at 24 Hour Fitness®, a 10% discount at Office Depot® when you sign up through National Membership Programs, plane tickets discounted up to 25% at Cathay Pacific Airways®, a free consultation and 10% discount on treatments at the Jaseng Center, up to 15% off the fee schedule at United Dental Group, up to 30% off on golf rounding fees at the Moorpark Country Club, and more. The program is updated periodically with many new benefits.
Signing up for the Super Jay Club is easy for USBSI merchants. The merchant simply has to visit the program website at http://www.usbsi.com/promotions/super-jay-club and find the products or services they wish to purchase. They then apply for benefit coupons by filling out their Merchant ID, business name, applicant's name, and email address. As soon as USBSI verifies this information, the discount coupons will be emailed to the merchant, who can present the coupons at the partner business locations to receive their new benefits and discounts.
USBSI is committed to giving its merchants the best possible benefits and services, as well as access to the most innovative credit card processing technologies available. USBSI has led the merchant service provider industry in customer service and support since its inception, and hopes that the Super Jay Club can give merchants even more added value in their partnership with USBSI in the years to come.
About US Bankcard Services, Inc.
US Bankcard Services, Inc. is a top rated MSP that offers competitive rates, incredible customer service support, and cutting edge technology in credit card processing service. USBSI offers a wide array of value-added services, including QuickDining.com (QD) restaurant e-commerce, gift card services, check guarantee, PCI-DSS compliance consultancy, 24-7 multilingual customer service and technical support. US Bankcard Services, Inc. is a registered MSP/ ISO of Elavon, Inc. Georgia
For more information about merchant bankcard services please visit us at usbsi.com or call us at: 1-888-525-8558.
###