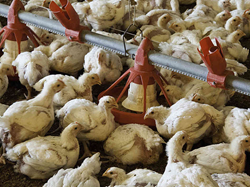 "I've been using this product since 1997 and have been a top grower for most of that time, never having issues with odors or salmonella." Dwayne King, TX
Alto, TX (PRWEB) March 17, 2014
The pathogenic microorganism Salmonella is a concern for all poultry growers. Most food safety approaches utilize disinfectants and harsh chemicals to control pathogenic microorganisms. TeraGanix supplies an all-natural liquid product made of all non-GMO, food grade, GRAS microorganisms as an inoculant in poultry litter to naturally suppress pathogenic microbes right where the birds are grown and live. In broiler production, litter that is left on the floor contains fecal matter. Salmonella species grow in the fecal matter and can become concentrated in the litter that gets stuck on the birds' feet and in their feathers. Between flocks, many growers will windrow (mound up) the litter for 7 to 10 days to heat up the material, hoping to pasteurize the material. However, this is often not effective and also results in increased levels of ammonia gas in the houses. 
A team of four USDA researchers, C. L. Sheffield, T. L. Crippen, R. C. Beier and J. A. Byrd, conducted experiments in hopes of finding a solution to both the odor and an effective method of pathogen control in the litter. While searching for some anaerobic methods, Dr. Sheffield came across the TeraGanix website and ordered some product to run tests. Dwayne King, President of TeraGanix, is a farm owner who uses the TeraGanix probiotic products in his poultry houses. Mr. King spoke with Dr. Sheffield about her research project and invited her to come inspect the poultry litter in his broiler houses. To Dr. Sheffield's surprise, she could not find any pathogens in the litter. Thus began several months of research at the USDA office.
The team headed by Dr. Sheffield recently published their research in the peer reviewed Journal of Applied Poultry Research.  They were able to replicate near complete pathogen suppression using TeraGanix's liquid bacteria product, Lt1000™. Even though farm practices vary in litter removal, if Lt1000™ is applied with every flock, pathogens can be suppressed regardless of litter management method. Use of Lt1000™ greatly reduces the risk of pathogenic bacteria living among the livestock and possibly reduces the risk of food contamination.
TeraGanix, Inc. is based in Alto, Texas. TeraGanix is the exclusive United States distributor of Effective Microorganisms® products and manufacturer of Lt1000™, a microbial concentrate designed for treatment of poultry litter. Lt1000™ is available only through TeraGanix, Inc.