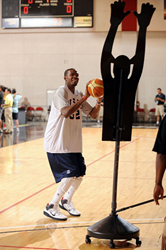 the best training tool available for coaches and players at simulating defensive pressure on shooters
(PRWEB) March 18, 2014
In order to fund the development of the ProHand, The Original Profender creator, Tony Devine, has started a Kickstarter campaign with a goal to raise at least $8,000 to assist with development. The ProHand will be available for pre-order through the Kickstarter campaign before June. With the help of external funding, the product will be an economical and effective training tool for players of all ages seeking to master their shooting skills while the Profender realistically simulates pressure by a defender. The ProHand is an economical alternative to The Original Profender which is currently used by college basketball teams like University of North Carolina (UNC) and Duke to name a few.
"My goal is to help every kid who wants to play basketball. In order to do so, I had to reinvent the Profender in a smaller, affordable form, instead of making it big and mobile for coaches. I made it where it can be carried and used by anyone willing to utilize this device as a training tool for sports. It is cheaper, lighter and can be easily transported," says Devine.
With the success of the Original Profender, Devine expects the ProHand to be the ideal choice for those seeking to master their offensive game.
"The goal is to make the players better game-time shooters. You're forcing your athletes to shoot a real jump with real pressure," says Devine.
To see The Original Profender in real-time, watch this promotional video: http://www.youtube.com/watch?v=j6rKkbef1wo
The Original Profender was also shown on the TV show Shark Tank, where creator Tony Devine pitched the training tool to the panelists: http://www.youtube.com/watch?v=JCEfadG15nk&feature=youtu.be
Hall of Fame basketball Coach Bobby Hurley says that The Original Profender is "the best training tool available for coaches and players at simulating defensive pressure on shooters."
About The Original Profender
The Original Profender is the most dynamic basketball training device on the market today. It is a completely mobile device which simulates a real defender and shot blocker. NBA and collegiate basketball teams, like The Miami Heat and Syracuse University, get their shooting edge by using The Original Profender.
The Original Profender can be used to challenge any outside jump shot, used down low in the paint for the big men, or used for any drill where you want to add game-like pressure. Best of all, its so easy to use that it can be operated by a coach, trainer, dad, mom, or even grandparents.
"Remember: Stop Pretending, and Start Profending," exclaims Tony Devine.
For more information about The Original Profender, visit the website at http://www.theoriginalprofender.com.
To learn more/contribute to the Kickstarter campaign, visit https://www.kickstarter.com/projects/1486386650/the-ProHand-sports-training-tool
For additional questions, please call 1-877-403-3363