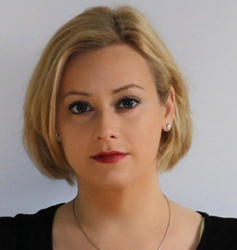 What drives me is seeing how our team's clinical work in the lab affects the lives of our patients, says Scott, IVF Laboratory Manager for RMACT.
Norwalk, CT (PRWEB) March 18, 2014
Reproductive Medicine Associates of Connecticut (RMACT) is proud to announce that Katherine Scott, BA, M.Sc. is the new in vitro fertilization (IVF) Laboratory Manager. Scott is responsible for all clinical laboratory functions in RMACT's laboratories, including IVF, embryology, andrology and endocrinology. She works with RMACT's team of Board Certified reproductive endocrinologists to perform assisted reproductive technologies (ART) and to lead clinical research.
"Katherine brings impressive credentials and leadership skills to RMACT's laboratory," says Dr. Mark Leondires, medical director at RMACT. "In particular, her experience and passion for working with embryos and preparing them for procedures such as IVF and SelectCCS (also known as Comprehensive Chromosome Screening) will help RMACT continue to provide patients with excellent care and to maximize pregnancy rates."
Scott has experience in cryopreservation and vitrification of oocytes and embryos, as well as embryo manipulation, culture, transfer and biopsy. She also has experience with male infertility, including semen analysis, cryopreservation and preparation for intrauterine insemination (IUI), intracytoplasmic sperm injection (ICSI) and IVF.
"What drives me is seeing how our team's clinical work in the lab affects the lives of our patients," says Scott, who feels very fortunate to have joined the RMACT team. "Our patients are depending on us to excel and it is rewarding to be a part of their success."
Scott's affinity for math and statistics drew her to study psychology at University of Alabama. As she concluded her degree, she was recruited to provide statistical support for Nathan Treff, Ph.D., at Reproductive Medicine Associates of New Jersey (RMANJ). Scott's enthusiasm, diligence, and technical acumen were quickly recognized as she moved into the Embryology laboratory and facilitated first with on-site training, then with institutional support in the pursuit of her Masters of Biochemical Sciences with an emphasis on Clinical Embryology and Andrology from Eastern Virginia Medical School. During her time in the laboratory, Scott has enjoyed the opportunity to refine her skills, participating in more than 10,000 IVF cycles. Armed with this experience, Scott began to travel, teaching vitrification to other laboratory professionals across the country.
About Reproductive Medicine Associates of Connecticut (RMACT)
RMACT specializes in the treatment of infertility, including assisted reproductive technologies (ART) such as intrauterine insemination (IUI), in-vitro fertilization (IVF), and Comprehensive Chromosomal Screening (SelectCCS). RMACT, Fairfield County's largest fertility clinic and egg donation center, is one of 11 leading In Vitro Fertilization (IVF) centers nationwide chosen by In Vitro Sciences to participate in its Centers of Excellence program. RMACT has offices in Norwalk, Danbury, Stamford and Trumbull, and an affiliate New York fertility clinics serving Putnam and Dutchess counties. RMACT also offers infertility treatment financing and support services, such as nutrition counseling, massage therapy, psychological counseling, acupuncture and yoga, through RMACT's Integrated Fertility and Wellness Center.
The RMACT team includes lead physicians Drs. Mark P. Leondires, Spencer S. Richlin and Joshua M. Hurwitz, as well as fertility specialists Drs. Cynthia M. Murdock and Shaun C. Williams. All physicians are Board-Certified Reproductive Endocrinologists and are members of the American Society for Reproductive Medicine (ASRM), the Society for Assisted Reproductive Technology (SART) and the Fairfield County and Connecticut Medical Societies. Each has received numerous awards, and all five are Castle Connolly "Top Doctors." RMACT's IVF laboratory is accredited by the College of American Pathologists (CAP), and CLIA; other accreditations include the Accreditation Association for Ambulatory Health Care (AAAHC) and the American Institute for Ultrasound in Medicine (AIUM). For more information, visit http://www.RMACT.com or find us on Facebook.