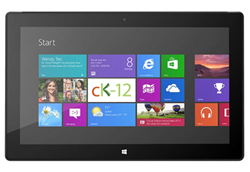 Providing every student and teacher an equal opportunity to access and customize the best digital content is our goal and we're excited to be working together with Microsoft to bring this to users of the Windows 8 platform globally. - Neeru Khosla
Palo Alto, CA (PRWEB) March 12, 2014
(March 4, 2014) CK-12 Foundation, a leading non-profit organization in K-12 Science, Technology, Engineering, Math (STEM) education announced a new collaboration with Microsoft Corp. to offer free high-quality math and science content for the Windows 8 operating system.
The first (of many) collaborative projects just released is a new Windows 8 application that allows students and teachers to access a rich library of K-12 STEM content to use in their daily learning and teaching. This includes digital math and science Flexbooks® (free, customizable digital textbooks), 5,000+ STEM concepts in multiple modalities (videos, exercises, text, practice, assessment, and real-world applications), collaborative class and study groups, and interactive practice from any Windows 8 device.
Neeru Khosla, Co-founder and Executive Director of the CK-12 Foundation, said, "Providing every student and teacher an equal opportunity to access and customize the best digital content is our goal and we're excited to be working together with Microsoft to bring this to users of the Windows 8 platform globally."
For CK-12 Foundation, the collaboration will provide access to high quality and customizable content to school districts that employ a 1:1 initiative, providing each student with a Windows 8 device. Content can be accessed from any Windows 8 device via the new app from the Windows Store even while offline. Previously schools have spent thousands of dollars on textbooks that become outdated almost immediately after they are purchased. CK-12 Foundation frees schools from traditional textbooks and allows them to update textbooks as often as necessary, and also access supplemental digital content that can help teachers in their daily classroom activity.
As technology becomes a more integral piece of education, more and more schools are moving to a 1:1, blended or flipped classroom style. As more schools adopt Windows 8 devices, the number of educational resources available on the devices grows. CK-12 platform now allows educators to prepare students for upcoming state standardized testing by assigning practice problems easily and seeing reporting on student progress immediately upon completion. Additionally, the platform gives students and teachers a place to communicate outside of class time to clarify concepts and receive homework help to stay on top of lessons.
"This collaboration is integral in CK-12 achieving its mission of providing equitable access to students and teachers globally with content and tools to individualize their learning and teaching. Microsoft can help millions of K-12 students globally gain access to this through the Windows 8 platform" said Khosla.
"STEM education is critical for preparing the next generation of doctors, engineers, and computer scientists, and is increasingly becoming more important for every type of job in the workforce today and in the future, which is why this collaboration with CK-12 is so important," said Margo Day, Vice President, U.S. Education, Microsoft Corp. "These new CK-12 STEM applications for Windows 8 will make learning STEM subjects more engaging and personalized for the needs of individual students across the nation."
You can find the new CK-12 Windows 8 app in the Windows App Store here.