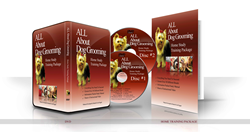 I really like the videos. They are very concise and clear. Thank you for creating this home study course.
Jacksonville, FL (PRWEB) March 12, 2014
It can be tough to learn new skills when there are no facilities to learn a new trade nearby. Carol and Richard Doggett have overcome that limitation and taken the world by storm. Their hit training program 'All About Dog Grooming' teaches its viewers valuable dog grooming skills which will allow them to make their own business a success.
The culmination of years of experience, 'All About Dog Grooming' comes as a pack containing an information packed spiral-bound training material, 8 hours of home training DVDs and even un-limited telephone consolations with the Doggetts themselves!
With in-depth hints and tips, the program is a resource both new-beginners and industry professionals will refer back to time and again. Drawing upon decades of experience in the pet care industry, this unique training program teaches its students how to cater to the furry customer.
By video the Terrier breeds such as the Schnauzer, Wire Fox, West Highland White or Spaniels such as the American Cocker or Springer, and many other popular breeds are covered, up to a total of 30 breeds. The videos also extensively cover the subject of the Poodle, especially including how to care for this unique breed's feet and face safely without the fear of clipper-burn. The most popular styles from the kennel clip, lamb clip, bikini clip and the more complicated pattern clips like the Dutch and Royal Dutch are all covered for the Poodle. You shouldn't worry If you don't know what those patterns are because 'All About Dog Grooming' teaches a would-be groomer everything they need to know from the ground-up.
Besides teaching about dog grooming itself, the training manual also shares the Doggett's experience in the world of business. Students can learn how to create their business from scratch, even on a shoe string budget. They will learn how to make it successful by bringing in more customers, grow their staff and perhaps even form a family business that they can be proud of for years to come.
Available world-wide 'All About Dog Grooming' is a training program that just about anyone can dive into without fear. The materials are easy to read and simple to digest and provide years of reference material for the business-minded groomer.
"I really like the videos. They are very concise and clear. Thank you for creating this home study course. It's a boon to distance learning. Also, very affordable," says Frances M. of Hawaii.
'All About Dog Grooming' is available now for the special discounted Mid-Winter sale price of $249.95.
To learn more about Richard and Carol Doggett, their story and their dog groomer training course, visit http://www.LearnToGroom.com.