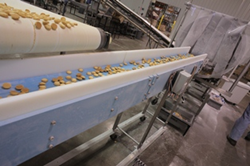 It takes half the time it did with the old system
Muskegon, Michigan (PRWEB) March 12, 2014
When Scott Thibault, President of J&M Foods, received notification that he won a conveyor system he thought he was being scammed. Although Thibault had registered to win the food conveyor weeks before, he didn't expect to win. He responded with, 'what's the catch?' but he says, "there was no catch. We won a custom food grade conveyor."
Family owned and operated J &M Foods, producer of natural gourmet cookies and cheese straws, began 25 years ago in a kitchen with a hundred year old family recipe for cheese straws and simple equipment like pasta extruders, pizza cutters, and french fry scoops. Today, the bakery resides on 21 acres in a 35,000 square foot facility producing 20 specialty foods that are distributed internationally to retailers and consumers.
Thibault decided that the DynaClean system would provide the greatest benefit on the production line to transfer tea cookies, that have a packed sugar coating, and cookie straws, produced with a light sugar coating, from the band oven conveyor system into the 6-foot stainless steel tumbler that coats the cookies with powdered sugar. The reasoning was that the new food conveyor was "designed for ease of cleaning," Thibault says.
Manufactured by Dynamic Conveyor Corp of Muskegon, MI, every piece of the DynaClean custom food grade conveyor, down to the color (blue), was selected specifically for food industry needs. Designed and built to meet NSF, FDA, USDA, and BISCC standards, the conveyor line is fabricated with stainless steel and plastic segments.
Powdered sugar is abrasive. "It's not dissimilar to the effect water has running across rocks. Over time, if it continues to go across that surface it wears and sugar does that too," says Thibault. So thorough cleaning is essential to protect equipment.
"The DynaClean is a very open design with no place for anything to hide and is much easier to clean. We can do that with one person much faster than how we used to do that," says Thibault. "With this system we no longer need to remove the belt to clean it, and it takes half the time it did with the old system," he says.
The conveyor system is designed to be taken apart without tools. "When you want a more thorough cleaning, it is easy to break down, lift off the retaining walls, lift out the rollers, clean underneath it, pressure wash it or dry wipe it and put it back together," he says. "Eliminating the tool makes several steps much easier, especially being BSQF certified."
When asked if Thibault would actually purchase the DynaClean custom food grade conveyor if he had not won it, he said, "If you're in a bakery and the products you run contain allergens this is a much better design to ensure you're getting things cleaned up in between. It saves time; the parts come off and on with no tools. It's a better gig."
To learn more about the DynaClean conveyor system, contact Dynamic Conveyor Corporation, 5980 Grand Haven Road, Muskegon, MI 49441; phone (800) 640-6850; info(at)DynamicConveyor.com; or visit the web site http://www.DynamicConveyor.com.