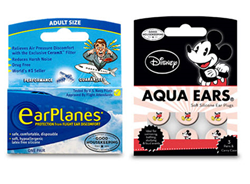 Cold Spring Harbor, NY (PRWEB) March 12, 2014
According to the U.S.Travel Association, 26 percent of domestic travelers traveled with children under the age of 18 in 2012. EarPlanes™ and AquaEars™ were designed to help guard against travel-related pains like barotrauma (in-flight ear pain) and swimmer's ear, but the makers of these products know that family travel comes with a multitude of "pains" – both literal and figurative.
Here are 10 tips for minimizing the pains, and maximizing the fun:

Fight Hidden Germs: Nothing ruins a vacation like getting sick right after you arrive! Recent research revealed that tray tables and the latches on the overhead bins are two of the germiest surfaces on an airplane. A quick wipe-down with anti-bacterial travel wipes and a few drops of hand sanitizer can go a long way.
Stop the "Pop": Protect ears with EarPlanes™ hypoallergenic latex-free silicone earplugs, which have a patented design that regulates air pressure naturally and provides protection from ear pain and discomfort during flight. For over 20 years EarPlanes™ earplugs have been recommended by doctors and flight attendants.
Swim Safely: AquaEars™ soft, latex-free earplugs offer dual protection for water-sensitive ears by sealing out water and reducing ear discomfort due to water pressure. AquaEars™ can also be used to lower the volume of sound for sensitive ears and are available in kids' favorite licensed characters, like the new Mickey Mouse pairs.
Streamline Security: Americans spend roughly 37 billion hours each year waiting in line, so prior to your trip, apply for a service like TSA Pre to expedite the screening process and skip the jackets/shoes/belts juggling.
Avoid Boarding Pass Bumbling: There's nothing worse than sifting through your bag to find everyone's form of identification, boarding pass, and passport when you need it. Try keeping them all in one place with a hands-free travel case that can hold your tickets, phone numbers, IDs and anything you might need on hand for the multiple check-in points.
Keep them Comfortable: Sitting in one position for a lengthy period of time can cause strain on your body. Soft comfy clothes, a favorite blanket or a neck pillow make it easier to relax and even catch a nap.
Believe in the Backpack: Before you leave, invite your kids to pack their own special backpacks with their favorite toys, games, books and whatever it takes to help keep them busy.
Keep a Healthy "App"-etite: Download a few kid friendly travel apps on your tablet before heading out for your trip. Keeping your little one happy and engaged in the actual journey will help make time fly by.
Choose Drinks Wisely: The air can become dry while traveling on an airplane and sometimes at your destination. Dehydration makes your body more susceptible to illness so when the drink cart comes around, choose water instead of caffeinated or alcoholic beverages which can dehydrate you more.
Don't Go Hungry: A hungry band of travelers = a cranky band of travelers! Pack filling and healthy non-perishable snacks to munch on in-between meals.
EarPlanes™ and AquaEars™ are available at major drug, mass market and airport retailers, such as CVS, Walgreens, WalMart, Paradies, Hudson News and many others for an average retail price of $9.00 and $4.00, respectively.
For more information, visit http://www.cirrushealthcare.com/ or connect with EarPlanes™ and AquaEars™ on Facebook for special offers, tips and giveaways: http://www.Facebook.com/EarPlanes and https://www.facebook.com/AquaEars.