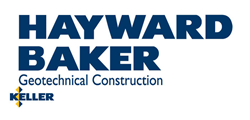 Hanover, Maryland (PRWEB) March 18, 2014
Hayward Baker Inc., North America's leading geotechnical contractor, recently completed a 6,200 square foot decorative sculpted shotcrete wall behind a housing development in Arvada, Colorado. Hayward Baker's decorative sculpted shotcrete capabilities support customers nationwide with projects ranging from small landscaping to large landslide and highway cuts.
Arvada Wall
New roadway construction in view of a housing development in Arvada, CO required a retaining wall to support a deep cut into a slope. To provide a more aesthetically pleasing wall, Hayward Baker constructed a 6,200 square foot, four-level soil nail wall with a sculpted shotcrete facing. The traditional portion of the soil nail wall was constructed in excavated lifts from the top of the wall to the final bench on the slope. The face of each lift received a four-inch-thick layer of reinforced structural shotcrete. After completion of the final lift, Hayward Baker's shotcrete crew worked from man lifts to construct a four-inch-thick architectural sculpted wall over the face of the soil nail wall. After curing of the sculpted facing, the team stained the shotcrete to match a natural rock face in the area. The project safely stabilized the slope while leaving the homeowners with a view from their backyards of a natural-looking rock formation.
Sculpted Shotcrete Walls
Tom Szynakiewicz, Senior Project Manager with Hayward Baker's Central Region, reported that Hayward Baker has provided shotcrete as part of temporary and permanent earth retention systems for many years, and explained the advantages of decorative sculpted shotcrete.
"Sculpted shotcrete offers the benefit of the proven effectiveness of traditional shotcrete over cast-in-place concrete in terms of cost and time savings. Sculpted shotcrete allows aesthetically pleasing surfaces that can maintain the look of the surrounding environment or enhance the surface of existing walls or earth retention systems," he stated.
"Our American Concrete Institute-certified nozzlemen can create natural-looking rock surfaces as part of any permanent earth retention system," added Szynakiewicz. "Hayward Baker's shotcrete services are available as stand-alone augmentation for existing retaining walls, or they can be part of a complete design-build package. Moreover, our specialized sculpted shotcrete crews are available to quickly mobilize throughout the United States or Canada."
Other sculpted shotcrete wall contracts recently awarded to Hayward Baker include a 36,000 SF anchored soldier pile wall ranging in heights from 3 to 35 feet to support a new facility for a large software company in San Antonio, TX. In addition, a roadway slope failure in Beaumont, TX will be stabilized with a permanent 9,000 SF soil nail wall with a maximum height of 25 feet. The final façade will be an Ashlar stone-style sculpted shotcrete, which is similar in appearance but less expensive to the existing traditional walls used by the Department of Transportation throughout the state.
For more information on the shotcrete services offered by Hayward Baker, contact Tom Szynakiewicz at 303-469-1136. For a complete listing of Hayward Baker regional offices, visit http://www.haywardbaker.com/locations.
About Hayward Baker Inc.
Hayward Baker is North America's leader in geotechnical construction. Ranked by Engineering News-Record magazine as the #1 Excavation/Foundation Contractor, Hayward Baker is the industry leader in applying ground modification technologies to site improvement and remedial work, with a 60-year record of experience.
A wide range of technologies are employed in providing foundation support and rehabilitation services, as well as settlement control, structural support, site improvement, soil and slope stabilization, underpinning, excavation shoring, earth retention, seismic/liquefaction mitigation, and ground water control. Every service provided by Hayward Baker is designed to be the most effective, cost-efficient solution, based on a proven track record of performance in the field.
Hayward Baker services are provided through a network of more than 20 company-owned offices and equipment yards across the continent, with recent expansion activities adding new offices in Salt Lake City and Toronto.
Hayward Baker Inc. is part of the Keller Group of companies, a multinational organization providing geotechnical construction services throughout the world. Web site address: http://www.keller.co.uk.