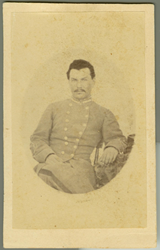 San Antonio, TX (PRWEB) March 13, 2014
The Alamo City Guards Camp 1325 of the Sons of Confederate Veterans is interested in finding descendants of Tejano Confederate soldiers. The SCV Camp will assist with ancestry research and finding grave sites of Hispanic Confederate veterans.
Tejano Confederate soldiers were known as the "first to fight and last to surrender" during the Civil War from 1861-1865. Lt. Joseph Garza is a veteran who is remembered as a true hero following his brave defense of Texas during the Battle of Mansfield in Louisiana in April 1864.
Joseph Garza was a dashing young officer in the 6th Texas Infantry Regiment. Garza came from a prominent and distinguished San Antonio family that helped forge the Texas economy in the 1800s. With banking and ranching interests, the Garza family was the first to produce a minted coin in Texas. The Alamo City Guards Camp is proud to announce the creation of the Lt. Joseph Garza Award for Community Service.
Another honorable veteran was Colonel Santos Benavides, the highest ranking Hispanic officer in the Confederate States Army. Although suffering from pneumonia during the war, Benavides got up from his hospital bed and led a small force of Tejano Confederates to defeat the much larger and superior armed 1st U.S Cavalry at the Battle of Laredo. Benavides went on to serve two terms in the Texas legislature.
For more information on the Sons of Confederate Veterans and the local SCV Camp Alamo City Guards go to http://www.alamocityguards.com/ or http://www.scv.org/. The camp can help find Confederate ancestors.
Membership in the Sons of Confederate Veterans is open to any male descendant of a veteran of the Confederate Armed Forces 12 years of age or older. Younger males may apply to become a cadet. Others, male or female, may become a "Friend of the Sons of Confederate Veterans." For additional information, contact PR officer Doug Vair by email at dvair(at)satx(dot)rr(dot)com.
About the company:
The SCV is the direct heir of the United Confederate Veterans, and the oldest hereditary organization for male descendants of Confederate soldiers. Organized at Richmond, Virginia in 1896, the SCV continues to serve as a historical, patriotic and non-political organization, dedicated to insuring that a true history of the 1861-1865 period is preserved.
Membership in the Sons of Confederate Veterans is open to all male descendants of any veteran who served honorably in the Confederate Armed Forces. Membership can be obtained through either direct or collateral family lines, and kinship to a veteran must be documented genealogically. The minimum age for full membership is 12, but there is no minimum for cadet membership.