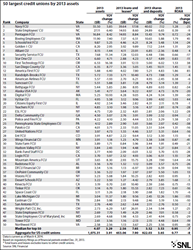 (PRWEB) March 13, 2014
After several years of growth, the nation's credit unions saw the first drop in aggregate net income since 2008 according to the latest report released by SNL Financial. Despite the heightened regulatory burdens facing the industry, credit unions continued to grow assets, loans and leases, and shares and deposits in 2013.
Aggregate net income at the nation's credit unions dropped to $8.22 billion in 2013 from $8.60 billion in 2012, according to SNL data. The credit union industry as a whole grew assets an aggregate 3.91% and grew loans and leases an aggregate 7.90% in 2013. At the same time, the 50 largest U.S. credit unions grew assets a median 3.29% and grew loans and leases a median 7.65%. Shares and deposits increased a median 3.53% at the top 50 and an aggregate 3.65% across all credit unions.
As credit unions look for growth, they must also contend with new regulations related to stress testing and capital and continued fallout from the Dodd-Frank Act. State Employees' Credit Union CFO Mike Lord said there has been a "torrent" of regulations over the last few years that will impact the entire credit union industry. SECU is the nation's second-largest credit union, with $27.11 billion in assets in 2013.
A proposal that the NCUA released in 2013 would require credit unions with assets exceeding $10 billion to perform annual stress testing, similar to that of large banks. NCUA Board Chairman Debbie Matz said stress testing would be part of NCUA's "coordinated approach" to supervision of a changing industry with asset growth concentrated in large credit unions.
Even though credit unions are not subject to stress testing yet, SECU is taking a proactive approach to the proposed regulation. "We've done the stress testing over the years," Lord said. He said that SECU worked with the assumptions that the Federal Reserve laid out for banks.
Lord said SECU is also stress testing its data protection system. "We've spent a tremendous amount of time, effort and money to put people, processes and software into place to protect our member data," he said.
Only four credit unions had more than $10 billion in assets at year-end 2013. Navy Federal Credit Union is the largest, with $55.50 billion in assets in 2013. A Navy Federal representative told SNL via email that the credit union is monitoring the progress of the NCUA's stress testing proposal.
For the full report, visit http://www.snl.com/InteractiveX/Article.aspx?cdid=A-27181210-14895.