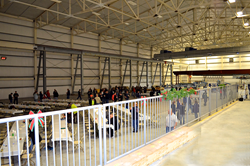 Douglassville, PA (PRWEB) March 13, 2014
American Crane & Equipment Corporation, a manufacturer of overhead electric cranes, hoists, and components has completed construction of its new manufacturing building.
The new structure, with over 45,000 square feet of space, has boosted production by increasing assembly, load testing, storage and shipping/receiving activities. This added facility has also streamlined the manufacturing process, increasing efficiency and thereby improving product lead/delivery times.
A spokesperson for American Crane stated that the additional space will give the company the resources and capabilities needed to build more products for the Oil and Gas Industry, as well as other industries involving hazardous environments. In the past the company has designed equipment for the Aerospace and Commercial Nuclear Industries, the Department of Defense, the Department of Energy, and many others.
For more information on American Crane products and services, please email us at info(at)americancrane(dot)com or call 877-877-6778, Ext. 224.