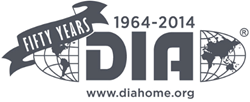 FDA's role in continual quality surveillance is essential to drug safety and of central interest to our attendees, stakeholders and the public.
Horsham, PA (PRWEB) March 11, 2014
The U.S. Food and Drug Administration's (FDA) Janet Woodcock will lead a discussion of the mission and function of FDA's new Office of Pharmaceutical Quality at the DIA 2014 50th Annual Meeting in San Diego, to be held June 15 to 19.
Woodcock is director of FDA's Center for Drug Evaluation and Research (CDER), which regulates over-the-counter and prescription drugs, including biological therapeutics and generics. The recently established Office of Pharmaceutical Quality is tasked with enforcing existing quality standards throughout the lifecycle of a drug. CDER proposed a reorganization of quality-related functions into a single office; FDA announced the creation of OPQ in late February.
"We are thrilled to have Dr. Woodcock leading the discussion of the office's important work and risk-based decision making in regulatory approaches," said DIA Global Chief Executive Barbara L. Kunz. "FDA's role in continual quality surveillance is essential to drug safety and of central interest to our attendees, stakeholders and the public."
The session, "Introducing CDER's Office of Pharmaceutical Quality," is slated for June 17 from 1:30 p.m. to 3:30 p.m. The discussion will focus on the Office of Pharmaceutical Quality's strategies for risk-based resource management and decision-making, maximizing the development and use of staff expertise, taking a proactive view of product quality through quality surveillance and enhancing the integration of review and inspectional functions.
Woodcock is one of dozens of FDA representatives invited to speak at the Annual Meeting. For information on related sessions, visit http://www.diahome.org/en-US/Flagship-Meetings/DIA2014/Meeting-Program/Find-Sessions-and-Presentations.aspx?SortBy=kw&Direction=Asc and click on speakers-regulatory/government agency.
ABOUT DIA
DIA is the global connector in the life sciences product development process. Our association of more than 18,000 members builds productive relationships by bringing together regulators, innovators and influencers to exchange knowledge and collaborate in an impartial setting. DIA's network creates unparalleled opportunities for the exchange of knowledge and has the interdisciplinary experience to prepare for future developments. The dedicated efforts of DIA staff, members and speakers enable DIA to provide a comprehensive catalogue of conferences, workshops, training courses, scientific publications and educational materials. DIA is a global community representing thousands of stakeholders working together to bring safe and effective products to patients.
DIA is an independent, nonprofit organization headquartered in Washington, D.C., USA with regional offices covering North and South America (Horsham, Pennsylvania, USA); Europe, North Africa and the Middle East (Basel, Switzerland); and Japan (Tokyo), India (Mumbai) and China (Beijing). For more information, visit http://www.diahome.org or call DIA's Global Headquarters at 1-202-601-8902.