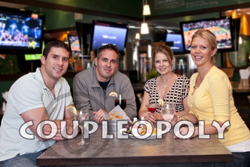 We know there is a niche market out there that isn't currently being catered to by the other major players in this space. We believe that Facebook is for individuals while COUPLEOPOLY is for couples.
Boston, Massachusetts (PRWEB) March 12, 2014
With a new exciting entry into the social networking space, COUPLEOPOLY is primed to take the existing concept and put a fresh new spin on it.
For the past few months the social start-up designed for couples has only been available to a select group for registration and access. Having completed a rigorous testing phase, the web site is currently open for early registration by interested couples prior to its full release.
"It is a fact that there are a lot of different social networking sites on the Internet today. Each of the existing offerings provides specific functionality to its base of users. There are also common functionality that they all share such as photo upload, followers and updates. COUPLEOPOLY is similar in some of those offerings to our users, as well as options which no other social networking platform does", says Michael Sullivan, Founder of COUPLEOPOLY, LLC, about the current online social networking landscape and this exhilarating new venture.
Even though the current economy is not very accommodating to start-ups, the story of this one is very intriguing. The site was built during the past year from the ground up by a husband and wife team from a small town in Massachusetts. The original premise of the site was to allow users which may have a hard time finding new "couple friends" a means of doing so. However, once development began the idea blossomed into a site that caters to all relationships.
The major areas of interest available at COUPLEOPOLY are the advice column, socialization with other couples, relationship profiles with infographics, search capabilities and an online magazine.
Another noteworthy area is the sponsor page. This is where the advertisers on the site are featured all together for users to view. Because this web application is being offered for free, they are currently looking for sponsorship from businesses to support this rapidly growing enterprise. This is an attempt to build community and offer advertising that applies directly to its demographics and their interests. Interested businesses can request information via email: ads(at)coupleopoly(dot)com.
When asked the question: "Will your site be competition for Facebook?" COUPLEOPOLY's founder says "No, but it isn't intended to be either. We know there is a niche market out there that isn't currently being catered to by the other major players in this space. We believe that Facebook is for individuals while COUPLEOPOLY is for couples."