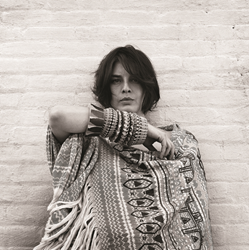 For me clothing is the first language. -Carla Fernandez
Boston, MA (PRWEB) March 12, 2014
The Isabella Stewart Gardner Museum announced today the opening of a dynamic new fashion exhibition by Mexican artist and fashion designer Carla Fernández. The Barefoot Designer: A Passion for Radical Design and Community, which will be on view from April 17th, 2014 through September 1, 2014 in the Museum's Hostetter Gallery, will explore the traditions and techniques of indigenous Mexican artisans and how they can be applied to modern fashion and styles.
"Collaboration is at the root of Carla Fernández's practice," said Pieranna Cavalchini, Tom and Lisa Blumenthal Curator of Contemporary Art at the Isabella Stewart Gardner Museum. "Her work combines a passion for beautiful clothing with a deep respect for the artisans and communities she works with. Fernandez has been gaining international recognition for her extraordinary approach which documents and preserves the rich textile heritage of Mexico's indigenous communities by transforming it into beautiful contemporary clothing and proving that tradition is not static."
This first-ever fashion exhibition at the Isabella Stewart Gardner Museum explores the development of a new visual fashion design language that Fernández has built across two decades. She uses a method dubbed "the Square Root," which is based on the Mexican tradition of making clothing with squares and rectangles. The process places the emphasis on the forms of fabric and the delicate, thoughtful construction process, which is based on whole fabric, rather than cutting in curves and molding to the body.
Fernández says her work is a metaphor for today's Mexican fashion revolution. She believes that the future in Mexico is handmade and the 'roots' of tradition can be used to create forward thinking design and to call attention to the careful indigenous techniques used to create her garments.
"For me clothing is the first language," Fernández said. "As soon as I see someone, I can read the code that he or she wants me to translate in the way they dress. I dress in a certain way because I know people will read me as well. That's why fashion is so powerful. Maybe you will never meet that someone, but you will admire them on the street because of the way they are attired and the care and originality they put into their clothing."
The Barefoot Designer is multi-faceted exhibition consisting of garments, textiles, drawings, photographs, performance, video, workshops and source materials demonstrating Fernández's multi-layered design process. A key component of that process is her design workshop Taller Flora, a mobile laboratory that collaborates with Mexico's indigenous communities. New radical designs are generated while preserving the traditional textile techniques. This is a sustainable business model based on close collaboration with and recognition of local knowledge and talent.
Color, mobility and creativity are the signposts around which The Barefoot Designer is conceived and structured. During her career, Fernández has worked with many indigenous communities throughout Mexico. The exhibition will highlight the styles and techniques of five States: Chiapas, Yucatan, Campeche, the State of Mexico and Mexico City. Designs inspired by each region are color-coded according to geographical area.
"It's eye-opening to see the five regions of Mexico represented and learn about the origins of indigenous style," Fernández said. "You can really see that although some of the regions are very close to each other, their cultures are completely different. If you blend their work with contemporary design, you can make fashion out of tradition and it's not static. It can be moving and revitalizing."
Mobility and collaboration can be seen and felt throughout the exhibition: in its installation, multiple films and monthly dance performances, as well as, its workshops for the public. The garments and mannequins are positioned on life-sized, mobile displays. Fernández has also activated the garments through a live and filmed dance performance by dancers Raushan Mitchell and Silas Reiner, bringing to life the notion of "clothing as canvas."
The collaborative approach with artists and artisans from different disciplines is characteristic of the way Fernández works. The Barefoot Designer will include short process videos of weavers, embroiderers, and carpenters by photographer and filmmaker Ramiro Chaves, as well as fashion films produced by Chaves and Pedro Torres in New York City, Boston and Mexico City. Also, a series of fashion shoot photographs by photographer Graciela Iturbide will be on view.
A large workshop table adds a hands-on visitor experience to the exhibition, featuring workshops in embroidery and tassel making, as well as weekly demonstrations illustrating the Square Root method. The exhibition will also be complemented by master weavers, pop-up studios by Boston-based designers, and a waistloom workshop with two indigenous master weavers from Chiapas. Fernández will run a two-day clothing workshop as well as workshops with the Gardner's School and Community Partnership Programs. The table will also include examples of textiles, books, and iPads illustrating the embroidery techniques and weaving processes used by the different communities.
"I want people to understand that you can find happiness many different ways, and one way is by creating goods by hand and making things unique to the artist," Fernández said. "Discovering the process helps people to understand how these different worlds work, because you fall in love with the artisan, and then you fall in love with the piece. You can create a whole economy based on the artists, and how their work is made."
The Barefoot Designer, by Carla Fernández will be on view at the Isabella Stewart Gardner Museum from April 17, 2014 through September 1, 2014. A related lecture series will accompany the exhibition on select dates in Calderwood Hall. For a full listing and description of lectures see below. For more information about this exhibition or other Museum programming, please visit http://www.gardnermuseum.org.
RELATED LECTURES:
THE BAREFOOT DESIGNER
Saturday, April 19th, 1 p.m.
Calderwood Hall
Carla Fernández will speak with Pieranna Cavalchini, Tom and Lisa Blumenthal Curator of Contemporary Art, about the exhibition, her process, and her experience as an artist-in-residence at the Gardner Museum.
TRADITION AND INNOVATION IN MEXICAN FOLK ART
May 8, 2014
Calderwood Hall
We often associate "tradition" as a concept of static culture. Through a revision of Mexican Folk Art during the last 50 years it becomes quite clear that there have been many changes occurring. The talk will share some of the scenarios: Some changes come from within the culture, due to the need for young people to feel modern, yet they maintain their cultural context. Many other times the changes are market driven and the Folk Artists interpret what buyers are asking for. At the same time contests take place to put a value on tradition, innovation and technical mastery. In the last 20 years there has been a growing tendency to direct innovation through collaborations between Designers, Product Developers and even Artists. Overall, there are many challenges for the future of Folk Art and Crafts and the sustainability of crafts production. Carla Fernández is an example of dedication, talent and social responsibility, developing a model to work with traditional artisans.
CARLA FERNÁNDEZ
Carla Fernández (b. 1973 Mexico) has developed a successful enterprise wherein the fashion industry and the handmade crafts of Mexico become compatible. The driving force of her strategy consists of reinterpreting the complex system of Mexican indigenous clothing through direct cooperation with artisans. In 2010, Carla Fernández was listed by Quién magazine as one of the 50 people who bring Mexico forward, and has been recognized as "Young Fashion Entrepreneur of the Year" by the British Council. In 2013, Ms. Fernández is one of 11 worldwide recipients of the Prince Claus Award based in Amsterdam, which recognizes artists whose cultural actions have a positive impact on the development of their societies.
SUPPORT
The Museum receives operating support from the Massachusetts Cultural Council. Media Sponsor: Boston Globe Media.
ISABELLA STEWART GARDNER MUSEUM • 280 The Fenway Boston MA 02115 • Entrance on Evans Way • Hours: Wednesday through Monday, 11 am-5 pm and until 9 pm on Thursday • Admission: Adults $15; Seniors $12; Students $5; Free for members, children under 18, everyone on his/her birthday, and all named "Isabella" • $2 off admission with a same-day Museum of Fine Arts, Boston ticket • Info Line: 617.566.1401 • Box Office: 617.278.5156 • http://www.gardnermuseum.org
The Isabella Stewart Gardner Museum—a work of art in totality—is at once an intimate collection of fine and decorative art and a vibrant, innovative venue for contemporary artists, musicians and scholars. Housed in a 1902 building, modeled after a 15th century Venetian palazzo, and a 2012 wing, designed by Renzo Piano, the Museum provides an unusual backdrop for the viewing of art. The Collection galleries installed in rooms surrounding the verdant Courtyard contain more than 2,500 paintings, sculptures, tapestries, furniture, manuscripts, rare books and decorative arts featuring works by Titian, Rembrandt, Michelangelo, Raphael, Botticelli, Manet, Degas, Whistler and Sargent. Visit the Gardner Museum online at http://www.gardnermuseum.org for more about special exhibitions, concerts, innovative arts education programs, and evening events.