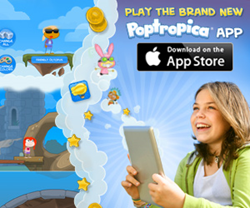 Boston, Mass. (PRWEB) March 11, 2014
Now hundreds of millions of Poptropicans around the world will be able to play the popular virtual world anytime, anywhere with today's launch of the free Poptropica® App. Available for download on the App Store, the app brings Poptropica's unparalleled storytelling to iPad®, giving kids another safe place to play and experience the stories brought to life on Poptropica.
"The new, free Poptropica App allows us to bring our quality, online story adventures to even more kids around the world, anytime they want to play and explore," said Jess M. Brallier, publisher of Poptropica. "Our wildly popular virtual world for kids, combined with the unique capabilities of mobile devices, provides opportunities for the creation of more engaging and exciting quests for kids."
At launch, the app features two of the most popular Poptropica adventures, "24 Carrot Island" and "Time Tangled Island," with more brand-new and classic Islands coming in the very near future. Just like on the Web, when kids arrive on the mobile "Time Tangled Island," they will find that a malfunctioning time machine has messed up history, and that by powering up the island's Future Machine, they can help the Island's inhabitants get history back on track. "24 Carrot Island" challenges players to investigate why the virtual world's people and carrots are disappearing, and bring the Island back to its former splendor.
Kids will enjoy opening the Poptropica App on iPad, creating a new Poptropican, and exploring a welcoming scene where they can collect gold shards and first experience Poptropica on a touch screen. Up to three Poptropican characters can be customized to play. More information on this brand new Poptropica App can be found at http://www.poptropica.com/apps.
The Poptropica App is currently available for iPad with support in the near future for iPhone® and Android devices.
Hundreds of millions of kids have visited Poptropica since its launch six and a half years ago and the number grows every day. Poptropica players come from more than 200 different countries and territories and have their web browsers set to more than 100 different languages. Kids can stay up to date on news about upcoming new Islands and other exciting developments in the world of Poptropica on the official Poptropica blog.
About Poptropica (http://www.poptropica.com)
Poptropica is a virtual world in which kids explore and play in complete safety. Every month, millions of kids from around the world are entertained and informed by Poptropica's engaging quests, stories and games.
Kids create a "Poptropican" character to travel the many Islands of Poptropica and use gaming literacy to enjoy a narrative that is often rooted in factual history. Problem-solving skills are honed as kids discover and solve mysteries unique to each Island.
There are always new areas to explore in this ever-expanding world where kids can collect objects, read digital books and comics, watch movies and compete in head-to-head competition. Parents can always trust that their children are playing – and learning – in a safe online and mobile environment.
Poptropica is published by Pearson, the world's leading learning company.