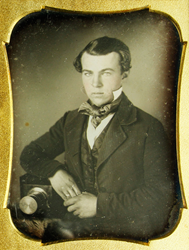 Beverly, MA (PRWEB) March 13, 2014
Kaminski Auctions will be among the respected dealers of photography present at the annual New York Photo Show, held April 11th and 12th, 2014.
Dan Silverman, Photography Department specialist at Kaminski will be accepting consignments of all types of photographic material, from antique and vintage pictures, to modern digital photography. He will also be able to offer a special rate to those who consign at the show.
General admission is free to the public on Saturday, and everyone interested in photography is welcome to attend. The show will be hosted at The Lighthouse, 111 East 59th Street in New York City, from 8:00am to 4:00pm Friday, and from 9:00am to 4:00pm Saturday.
KAMINSKI
Kaminski Auctions, located on the North Shore of Boston, has been serving the New England antiques market for over 25 years as a full service auction house and appraisal service for fine art, antiques and estates.
With two locations in Beverly, Massachusetts, including a new state of the art auction gallery located at 117 Elliott Street, and a historic 1850's barn and office facility at 564 Cabot Street, Kaminski Auctions hosts 25 auctions a year.
In today's highly competitive market of fine art and antiques, Kaminski Auctions provides its customers with bicoastal services and marketing with west coast offices in Beverly Hills and San Diego, California.
Kaminski Auctions offers specialty departments in Asian Art and Antiques, Silver, Glass and Lamps, Couture and Vintage Clothing, Photography and Modern Design . We have highly trained and knowledgeable appraisers on staff that will help you determine the true value of your antiques, or entire collections. Free Appraisal days are offered every Tuesday from 10:00am-4:30pm at 117 Elliott Street in Beverly, Massachusetts & by appointment at our San Diego and New York City locations. We welcome emailed photos of your items! Contact consignments (at) kaminskiauctions (dot) com
We would like to thank all of our customers, consignors and friends for voting Kaminski Auctions #1 Best Auctioneer on the Northshore - Reader's Choice Award! "Kaminski has earned its gold-star reputation by serving the New England antiques market for over 25 years. Specializing in the sale of Asian art and antiques, silver, glass and lamps, couture and vintage clothing, photography, and modern design, the full-service auction house provides expert appraisal services. From its Beverly art gallery and historic barn comes a wealth of experience with fine art, antiques, and estates values." - Northshore Magazine