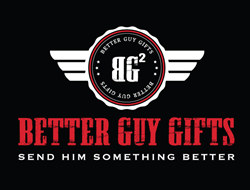 There was a definite lack of resources for high-end, unique gift ideas for men. That's where Better Guy Gifts comes in…
Denver, CO (PRWEB) March 13, 2014
Better Guy Gifts is pleased to announce the release of its debut collection of unique and cool gifts for guys. Founded in the late fall of 2013, Better Guy Gifts began specializing in providing affordable and unique high-end gifts for men.
Recognizing that there was a definite lack of resources for men's gifts, Better Guy Gifts set out to fill a need and void in today's e-commerce community.
Being the purveyor of manly gifts became our passion. With the recognition that guys can be difficult to shop for and that finding the right gift options can be a challenge we created a suite of collections and gifts that are unique, respected, and simply better than the typical gift.
Better Guy Gifts provides shoppers with access to well thought out collections, such as the Premium Grilling Collection, or the ability to create your own personal gift by picking from the wide array of individual options. Corporate gifts and custom collections are also available by contacting Better Guy Gifts directly at info(at)betterguygifts(dot)com.
Our debut collections focus on the manly realms of grilling, tattooing, golf, tailgating, outdoor entertainment, snacking, and the enjoyment of whiskey, wine, beer, and martinis.
Future collections offered by Better Guy Gifts will include car care, bicycling, outdoor adventures, pizza, and a series of survival kits for life's trials such as new baby, mother in law, travel, and hangover.
All gifts are packaged and shipped in sharply branded and recyclable manly cardboard boxes and come with 100% customer satisfaction guarantee.
Stop giving gifts that guys don't want. Send him something better!™