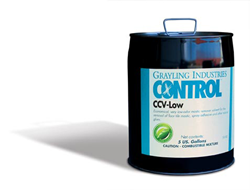 Alpharetta, GA (PRWEB) March 24, 2014
Since the California Air Resources Board (CARB) first introduced regulations to address volatile organic compounds, or VOC's, in 1991, several other states have followed suit in regulating solvent-based products, like mastic removers that are used on asbestos abatement projects.
VOCs have been found to be a major contributing factor to ground-level ozone, a common air pollutant that has been proven to be a public health hazard. The purpose of the CARB regulations is to limit emissions of VOCs by requiring reductions in the VOC content of consumer and commercial products.
Mastic Removers are classified by CARB and other regulatory bodies as "floor or wall covering adhesive removers". The VOC limit for floor or wall covering adhesive removers is 5% by weight (excluding packaging). This restriction would essentially eliminate all solvent based mastic removers as a CARB compliant option, however, there are exemptions to the limitation. Some compounds, like acetone, ethane and methyl acetate are exempt from the VOC rules, but these products have some other serious and sometimes dangerous drawbacks, like extreme flammability.
Control CCV-low mastic remover is a formulation of soybean based solvents and hydrotreated petroleum distallates that safely meet the CARB low VOC requirements. The combination of the two solvents that comprise CCV-Low produces a highly effective and powerful solution that performs well, has a very low to non-existent odor and is easy to clean up post removal. This blended solution is ideally suited for asbestos abatement projects where an active solvent is necessary but where odor could be an issue.