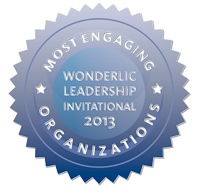 San Jose, CA (PRWEB) March 13, 2014
Mountz, Inc. earns award from the Wonderlic Leadership Invitational 2013. Wonderlic, the nation's leading publisher of employment assessments and student admissions tests, recently announced the "Most Engaging" Leaders and Employers in the Wonderlic Leadership Invitational.
The purpose of the Invitational was to help organizations evaluate the quality of their leadership team. A leader is more than a job title or position of authority. Excellent leaders create an environment where others want to follow by inspiring others to internalize organizational goals and values, apply extraordinary effort, and achieve results above and beyond expectations.
The Invitational was open to organizations of all sizes as well as individuals. Leaders and their direct reports completed a series of questionnaires, which produced a Favorability Engagement Rating that was used to determine the most engaging leaders and organizations. Wonderlic recently announced that Mountz Inc. is one of the top ten organizations.
"It's no secret that leaders play a pivotal role in the success of an organization," states Michael Callans, Vice President of Research and Development at Wonderlic. "Everyone who entered showed a strong interest in discovering where they excelled and where they needed improvement in order to help maintain and develop their leadership style."
Wonderlic, Inc. is a privately held company headquartered in Vernon Hills, Illinois and a founding member of the Association of Test Publishers. The company provides businesses and schools with a comprehensive library of highly regarded assessments and surveys for each phase of the hiring and student selection process. In its 75+ year history, Wonderlic has delivered over 300 million assessments and surveys for more than 60,000 organizations, government agencies, and accrediting bodies. For more information, please visit http://www.wonderlic.com.
Since 1965, Mountz Inc. has proven its in-depth knowledge of torque and torque solutions by consistently developing, producing, marketing and servicing highly sophisticated, cutting-edge tools. Mountz Inc., known to industry as the nation's premier torque tool supplier, is an ISO 9001 registered and ISO 17025 accredited company. Mountz tools comply with ISO6789:2003 and are constructed from high quality materials, engineered for superior reliability and safety and backed by an industry leading warranty. Making a safer world through accuracy and precision is the core purpose of Mountz, Inc.
San Jose, California based Mountz Inc. provides torque tool solutions and metric fasteners to a variety of industries like aerospace, automotive, electronics, energy, medical, packaging and more. Mountz, Inc. features two other product divisions - Mr. Metric® and MountzPro®.
Mr. Metric is the leading metric fastener specialist in North America. Well regarded as experts in metric, Mr. Metric is known for hard to find metric items at competitive prices. MountzPro offers tools for the professional market with the goal to make fastening easy for the professional and weekend mechanic or other service technicians.
Using a quality torque tool makes a safer world through accuracy and precision. Controlling torque is essential for companies to ensure their product's quality, safety and reliability isn't compromised. The failure of a three-cent fastener that isn't properly tightened can lead to catastrophic or latent failures. Fasteners that are insufficiently fastened can vibrate loose and excessive torque can strip threaded fasteners.