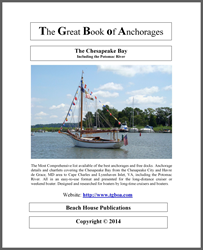 A great book for cruisers. The layout is clear and to the point. The charts are helpful in seeing the anchorage features and the comment box is insightful. Overall this is a great book, lots of information and the price is right.
Sarasota, Florida (PRWEB) March 13, 2014
The Great Book Of Anchorages series is researched, published and distributed by the authors from their Marine Trader trawler, Beach House. The information contained in The Great Book Of Anchorages, The Chesapeake Bay is the result of the authors boating experience on the Bay spanning over 40 years. The books are designed to be a supplement to a boater's favorite cruising guide and not a replacement. The two previous editions in the series of anchorage books have been, Hampton Roads and Norfolk to The Florida Keys, Including The St. Johns River, released in September 2012 and The Bahamas – The Route Most Traveled, released in September 2013. The Great Book Of Anchorages was conceived to fill a void in most cruising guides, the lack of significant anchorage information.
In time, this will be a series of six anchorage books that will encompass the waterways of the eastern United States and a special edition covering the Bahamas. The Chesapeake Bay, Including the Potomac River edition is available to the boating community now at https://www.tgboa.com/products and will soon be available from select online retailers and locations along the waterway. The website, http://www.tgboa.com/, offers photo albums of select anchorages and interactive maps showing the locations of the anchorage photos. Additional books in the series will be the Gulf Coast Intracoastal Waterway from Mobile, Alabama to Cape Sable, Florida, New Jersey to New York, including the Hudson River, and finally Chicago to Mobile. The order and dates of release for the additional books will depend on input and requests from the boating community.