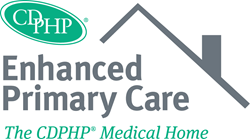 The work being done here today will better prepare physicians for the changes of tomorrow, said Dr. Bruce Nash, chief medical officer, CDPHP.
Albany, NY (PRWEB) March 11, 2014
CDPHP has awarded $750,000 to local physicians for achievements in patient satisfaction, quality of care, and efficiency in health care services. The practices, all which are part of the CDPHP Enhanced Primary Care (EPC) initiative, serve as an example of how coordinated health care can improve peoples' lives and lower health care costs.
The practices that have earned performance bonuses under the EPC program include:

CapitalCare Family Practice
Community Care Physicians PC
Eugene P Heslin, MD, PC
Irongate Family Practice Associates, PLLC, of Glens Falls
Jill Braverman-Panza, MD
Saratoga Family Practice, PC
Scotia Glenville Family Medicine, PC
Shaker Pediatrics, PC
Whitney M. Young, Jr. Health Center, Inc.
"The physicians being recognized today serve as a model for the delivery of high-quality, cost-effective care. They understand that the world around them is changing and have made a conscious decision to save the field of primary care medicine while improving the quality of care they deliver each and every day," said Dr. John D. Bennett, president and CEO, CDPHP.
There are a number of factors that makes an EPC site different, including the use of electronic medical records, appointments at convenient times, and an emphasis on preventive care.
"The Affordable Care Act will create new demands for primary care physicians who will often be the first stop for many newly insured patients. The work our physician community is doing today will better position them to handle the changes of tomorrow," said Dr. Bruce Nash, chief medical officer, CDPHP.
In 2008, CDPHP launched EPC with a goal of improving the quality and value of health care while addressing the shortage of primary care physicians. The program abandoned the "fee-for-service" model, which has historically reduced the amount of time doctors are able to spend with patients. Instead, EPC offers financial incentives for doctors who spend more time with patients with the greatest needs.
An independent analysis of the EPC program produced the following impressive results:

15% reduction in inpatient admissions
9% reduction in emergency room visits
$8 per member per month savings
Click here to learn more about the CDPHP Enhanced Primary Care initiative.
About CDPHP®
Established in 1984, CDPHP is a physician-founded, member-focused and community-based not-for-profit health plan that offers high-quality affordable health insurance plans to members in 24 counties throughout New York. CDPHP is also on Facebook, Twitter, LinkedIn and Pinterest.