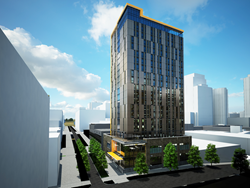 This new building will give our incoming students a beautiful new place to live and learn right in the very heart of our downtown campus.
Seattle, WA (PRWEB) March 13, 2014
Cornish College of the Arts is pleased to announce the launch of its newest construction project – the building of a new residence hall and learning center at 2025 Terry Avenue (the corner of Lenora Street and Terry Avenue).
The new 20-story building was designed by the architecture firm Ankrom Moisan, with Capstone Development Partners as the project developer and manager and Howard S. Wright as general contractor for the construction. The new hall is slated to be complete in the fall of 2015 and will replace the two Cornish residence halls currently in use on 7th and 8th Avenues.
In addition to 16 floors of resident rooms, the new hall will feature a community kitchen and great room, fitness and media studios, laundry facilities, plus live-in apartments for the supervisory staff and office space for the Housing, Residential Life and Student Affairs offices. The building will also contain more than 16,000 square feet of space specifically designed for classes, workshops and other on-site learning activities. In addition to housing students from Cornish, the building will also be a residence for students who attend City University, per a lease agreement between the two schools.
"This new building will give our incoming students a beautiful new place to live and learn right in the very heart of our downtown campus," says Cornish College President Nancy Uscher. Bruce McKee, Principal at Capstone adds, "We are delighted to be partnering with Cornish College to create a residence hall that will enhance the on-campus experience for both its new and returning students."

The official groundbreaking ceremony will take place on Tuesday, March 18, at 3:00 p.m. adjacent to the construction site, on the corner of Lenora and Terry in the Denny Triangle neighborhood of downtown Seattle.
The 3:00 p.m. groundbreaking will be the time for the press to take photos at the perimeter of the construction site.
A by-invitation-only reception will follow the groundbreaking ceremony.
For more information about the groundbreaking, please contact Gretchen Douma, interim director of communications at Cornish College of the Arts at 206-726-5169 or by email at gdouma(at)cornish(dot)edu.
About Cornish College of the Arts
A pioneer in arts education, Cornish College of the Arts sprang from the remarkable vision of Nellie Cornish, a woman determined to cultivate the arts in Seattle when it was scarcely more than a frontier town. Her philosophy of educating the artist through exposure to all the arts was progressive in 1914, and continues to be innovative today. The College offers Bachelor of Fine Arts degrees in Art, Dance, Design, Performance Production and Theater, a Bachelor of Music degree and an Artist Diploma in Early Music. The College is accredited by the Northwest Association of Schools and Colleges, and the National Association of Schools of Art and Design.
About Ankrom Moisan
Ankrom Moisan was founded in 1983 to provide integrated architectural, interiors, urban design, and identity design services to its clients. Ankrom Moisan is now a national firm with 200 staff members and offices in both Portland and Seattle. Its portfolio includes award-winning mixed-use housing, market-rate apartments and condominiums, student housing, affordable housing, senior housing, healthcare, corporate offices, hospitality, and retail.
About Capstone Development Partners
Capstone Development Partners, LLC is a Birmingham, Alabama-based student housing developer with more than 23 years of experience in the higher education student housing industry. Capstone specializes in the development of urban, on-campus and campus-edge student housing through public/private partnerships.
About Howard S. Wright
With more than 128 years in business, Howard S. Wright provides preconstruction, general contracting, and construction management services for clients in the public and private sector. Operating out of offices on the West Coast, the company serves numerous market sectors including public agency, healthcare, commercial office, mission critical, education, and multi-family housing. Howard S. Wright is a leader in sustainable building with over $1.8 billion in completed LEED projects. Serving clients in the public and private sector, the company has successfully delivered construction management and general contracting services for ten Fortune 100 Companies. In June of 2011, Howard S. Wright joined the Balfour Beatty Construction family of companies. For more information about Howard S. Wright, visit howardswright.com.