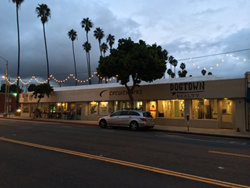 Santa Monica, CA (PRWEB) March 13, 2014
The South Santa Monica, California building where modern skateboarding was born has become a mecca for skateboard enthusiasts and fans of the film, "Dogtown Z-Boys." People from all over the world flock to the corner of Main and Bay Streets, once home to Zephyr Productions, the surf and skate shop where the 12 youths who became the Z-Boys would gather. Some visitors pose for pictures in front of the building, others actually kiss the walls. For real estate broker Assaf Raz, the film left an indelible impression that would change the course of his life.
"I first saw 'Dogtown Z-Boys' 12 years ago," recalls Raz. "As a surfer, it resonated with me in such a big way that I went out and bought the Dogtown Realty name." Not knowing exactly what he would do with it, Raz allowed himself to be guided by fate. In 2012, he was representing both the seller and a buyer interested in purchasing the entire Zephyr Productions building.
It would be one of the biggest deals of Raz's career, but something he couldn't identify was gnawing at him. When the seller backed out and asked him what should be done with the building, Raz took it as a sign. He and partners Itay Raz and Itai Klein opened Dogtown Coffee in the landmark building with the mission of "preserving history through localism," naming it as a tribute to the South Santa Monica/Venice neighborhood where the Z-Boys once lived, surfed and skated. Expanding on the Dogtown vision, Raz launched Dogtown Realty, Inc. this January in the same building where another famous surf shop, Horizon West, used to be.
Raz and business partner Jeff Konecke bring more than 30 years of collective real estate experience to the business, and both men cut their teeth under the tutelage of local real estate visionaries Jack Hoffman and Suzy Frank. Their two-time sale of the Dennis Hopper estate in Venice made local news headlines both times. The mission of Dogtown Realty, explains Raz, is to "empower the community by inspiring a new culture of locals serving locals."
Both the coffee shop and the real estate office are housed in the same building where the legendary Jeff Ho established his eponymous board shop and Zephyr Productions, the skateboarding enterprise that, in the early 1970s, would turn Stacy Peralta and Tony Alva into household names. Today, Alva sells his handcrafted surfboards out of Dogtown Coffee.
As Venice locals, Raz and Konecke are building on their intimate knowledge of Venice and Santa Monica history, culture and geography to carve out a niche in the Southern California real estate market. "We consider ourselves geographic realtors, which means that we cover any real estate need in the area," notes Raz. "We live, work and surf in Venice and Santa Monica, and we know it inside out."
As fans of the Dogtown history can attest, the Z-Boys culture defined South Santa Monica/Venice Beach in the 1970s. Through their surf-inspired maneuvers, the Z-Boys put Venice/Santa Monica—and skateboarding—on the map, starting a social movement that would attract a worldwide following. Raz and Konecke aim to bring back the Dogtown appeal by concentrating their niche real estate business on the local culture.
"The neighborhoods of Venice and Santa Monica continue to develop today, and they still have the beauty, diversity, pluralism and artistic value from past generations," says Raz. "Because of this, now more than ever, people want to live, work and play in Venice and Santa Monica. Dogtown Realty exists to serve this community."
For more information, connect with Dogtown Realty at https://www.facebook.com/dogtownrealty.