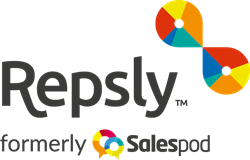 The most surprising thing about our massive growth is that it has come from companies using Salespod for merchandising, marketing, delivery and service activities... not just sales.
Boston, MA (PRWEB) March 13, 2014
Salespod, Inc., the maker of the field sales and retail merchandising automation tool Salespod, announced today that it will be changing its name to Repsly in the coming weeks.
Salespod's Field Activity Management solution is used to drive market penetration, retail execution, promotion compliance and product distribution, while giving managers real time access to data collected by their reps, including time and map-based location data for all field activities. The business grew 400% in 2013, and the company expects to expand ten-fold in the coming year. According to CEO Marko Kovac, "The most surprising thing about our massive growth is that it has come from companies using Salespod for merchandising, marketing, delivery and service reps. We've decided that Repsly tells the world that our solution is for all kinds of reps, not just sales reps."
The company reports that the rebranding will not impact the functionality of its software. "Our commitment to delivering power and value through the most simple user experience will always be the core of what we do," said Kovac. "Repsly will become more powerful, and it will continue to be the easiest to use Field Activity Management tool for our customers."
Salespod is used in many industries to drive visibility, efficiency and accountability into outside sales, merchandising and marketing organizations. The cloud based solution is changing the way that companies manage their mobile workforce by leveraging mobile technologies to greatly streamline how information moves between the field and the back office. Known as an Agile Field Activity Manager, Salespod drives efficiency in the mobile workforce by providing high value functionality on smartphones and tablets, including:

tracking the geo location of field teams and their activities
managing customer information,
gathering data using custom forms and surveys,
collecting orders,
capturing photos and,
conducting price checks.
About Salespod:
Salespod specializes in developing mobile software solutions for enhancing sales processes for the FMCG (fast moving consumer goods) industry, the pharmaceutical industry and the cosmetic industry. Since their founding in 2008, the vision has been to offer the most comprehensive and convenient mobile solutions on the market for sales and mobile management. Known as a Field Activity Manager, the software is used by L'Oreal, Nike Golf, Lavazza, Keune Haircosmetics, Julius Meinl, Jaegermeister and many others. Salespod changes the way field sales teams communicate, collaborate, and conduct business. This is a fundamental shift occurring in outside sales and merchandising. Gone will be the days of clunky CRM systems. For more information or a free trial, go to http://www.salespod.net. For industry news and reports, visit the Salespod blog at http://www.salespod.net/blog/all-news/ or Twitter.com/salespod.