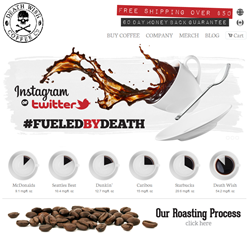 Round Lake, New York (PRWEB) March 13, 2014
Death Wish Coffee Company has announced that on Friday, March 14, 2014, they will be upgrading their web presence by unveiling their new website, http://DeathWishCoffee.com. The site will be hosted on the Shopify network and will now offer monthly coffee subscriptions, bundled product deals and a more user friendly theme.
Death Wish Coffee, the world's strongest coffee, is currently only sold through online channels. Through the fourth quarter of 2013, Death Wish Coffee was the #1 selling coffee brand on Amazon.com and the top food/beverage business in the Shopify Build-a-Business competition. Knowing how important their web presence needs to be, Mike Brown, owner of Death Wish Coffee Company contacted Chris Pointer of Pointer Creative, the top Shopify store designer, to create a website that is user friendly, easily navigated, and beautifully laid out. Death Wish Coffee Company has scheduled their site, http://DeathWishCoffee.com, to be officially released on Friday, March 14th, 2014.
The new website took three months of planning and will be a top of the line tool for online shoppers. The site will contain an online store, a weekly blog as well as a glimpse into the creation and production of the World's Strongest Coffee. It will also include an introduction to the DWC team, promotional information, social media links and some new features to entertain and inform their visitors. The previous website was designed by Death Wish Coffee creator, Mike Brown, who had this to say:
"Although the old website was functional and informative, it lacked the ability to capture the strength and excitement of Death Wish Coffee. We needed a site that can act as an intermediary between our customers and ourselves and be a home base that we are proud of. Chris Pointer has done an amazing job making this a reality. The previous website struggled with a high bounce rate and mediocre sales conversion numbers at 50% and 4% respectively. I assume that this was due to unclear calls to action, poor headings, and not properly telling the story of Death Wish Coffee and how it came to fruition. The new site should alleviate those problems."
The upgraded website is the next logical step for DWC in their goal to be the most demanded coffee brand on the internet. With the release of their mobile app on Feb 17th, 2014, their #1 sales ranking on Amazon, their network leading Shopify store and the success of their recyclable single serve cups (Death-Cups), they are well on their way to accomplishing that goal. Although there are numerous internet coffee vendors, many of them don't succeed in an environment that is increasingly transparent and consumer-review driven. This is where DWC excels. Their customers love this product and brand and are extremely vocal about their approval. Five star reviews are the standard at DWC and it is clear that they work very hard to maintain their excellent reputation. This is a company that cares about their customer's opinions and are always looking to improve the quality of service and their brand.
A rating and review system has been built into the new website so that customers can help each other by giving their thoughts, experiences and preferences on DWC's products and service. Mike Brown suggests that you don't stop there; check out the reviews on Google, Amazon, Youtube, Facebook, E-bay and Yahoo for the complete picture.
http://DeathWishCoffee.com is due for release Friday, March 14, 2014 and will be the backbone for Death Wish Coffee Company. It promises to deliver an awesome user experience that will be constantly evolving to meet the consumer needs of the World's Strongest Coffee.