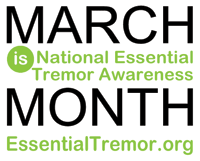 I want to help raise awareness and bring hope to all those in the Detroit area who are affected by ET.
Lenexa, KS (PRWEB) March 12, 2014
March is National Essential Tremor Awareness Month, an important time to increase awareness about essential tremor (ET) and provide helpful information to those that have or might have ET. Although the International Essential Tremor Foundation (IETF) will work throughout the month of March to raise awareness of ET in the global community, the IETF has designated Saturday, March 22, 2014 as a specific day in which those affected by ET can walk for essential tremor in their community, to raise both awareness and funds. Tom Pilarski, local essential tremor support group leader volunteer and area resident, has taken up the cause and has an ET awareness walk planned.
On March 22, 2014 Pilarski's support group will begin their walk at 11:00 a.m. at the Great Lakes Crossing Outlet Mall, located at 4000 Baldwin Road in Auburn Hills, Mich. The group will meet at the food court and walk the interior of the mall. Members from a neighboring Canadian essential tremor support group will also be walking with Pilarski's group. All are welcome to join them on March 22 to help raise awareness.
Pilarski is personally affected by ET, so it is important to him to raise awareness in the community in which he lives. "I have lived many years with essential tremor, and yet many have never heard of the condition," explains Pilarski. "I am often asked by strangers if I am nervous or cold, because my hands shake. I want people to know this is a very real condition that impacts everyday living—something as simple as taking a drink of water from a glass or signing my name to a check easily becomes a frustrating ordeal. I want to help raise awareness and bring hope to all those in the Detroit area who are affected by ET."
Essential tremor is a neurological condition that causes rhythmic shaking of the head, hands and voice, and can also affect the legs and trunk as well. An estimated 10 million people in the United States have essential tremor (ET) and countless millions more are affected worldwide. While not life threatening, ET is a serious and progressive condition that can significantly affect a person's quality of life – socially, professionally and emotionally. People with ET often have difficulty with everyday activities such as getting dressed, eating, drinking, speaking or writing. And despite the large number of people directly affected by ET there is still very little awareness of the disorder.
"March is an important time for all those affected by ET," said IETF Executive Director Catherine Rice. "We believe that by taking our message to the streets and encouraging those affected to talk about their condition; the increased awareness will eventually bring about better treatment options and a cure for this life-altering condition. The designation of March as National Essential Tremor Awareness Month provides the Foundation with another platform to educate the public about the condition."
The IETF provides support and education, advocates for greater awareness, and provides funding for critical research into the causes of and a cure for essential tremor. March 2014 marks the fourth anniversary of House Resolution (H.RES.) 1264, sponsored by former Congressman Dennis Moore (Third District - Kansas), officially designating the month of March as "National Essential Tremor Awareness Month."
About The International Essential Tremor Foundation
Headquartered in Lenexa, KS, and founded in 1988, the International Essential Tremor Foundation is the leading organization in the world dedicated to those affected by essential tremor. The mission of the IETF is to fund research that will find the cause of essential tremor and lead to better treatments and a cure, increase awareness about ET, and provide educational materials, tools and support to healthcare providers, the public, and those directly affected by ET.
The IETF has distributed more than $685,000 in research grants, to fund 27 promising studies, in the search for the cause of ET. The Foundation has hosted numerous community awareness events across the U.S. to provide those affected with the basic knowledge necessary to become their own advocate when seeking treatment. And, the IETF also provides assistance to a vast network of support groups around the world. To learn more about essential tremor and the IETF mission, visit the IETF website at essentialtremor.org.
Contact:
Catherine Rice, IETF Executive Director
crice(at)essentialtremor(dot)org
913.341.3880
Tom Pilarski, IETF Support Group Leader (Volunteer)
tomsabrina(at)me(dot)com
248.672.8448
###