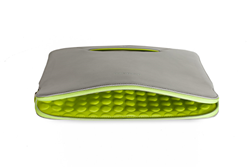 Seattle, WA (PRWEB) March 18, 2014
Brenthaven today announced a collection of highly protective cases and sleeves fitted for all Surface models including Surface, Surface 2, Surface Pro, and Surface Pro 2.
From the Collins Collection, the Collins Sleeve and Vertical Messenger are an ideal fit for Microsoft Surface tablet models. Available in charcoal gray, indigo chambray, and camel chambray exterior with a High Density Foam Protection System, the Collins Sleeve and Collins Vertical Messenger are the ideal protective solution for the on-the-go urban professional.
BX2 Sleeves are a low profile, highly protective option for the Microsoft Surface Tablet. The patent-pending Secure Grip handle keeps devices stable when carrying while the BX2 Xtreme Foam Protection System offers four-corner drop protection with soft bubble lining for scratch protection.
With its sleek and understated silhouette in classic black, the Elliot Sleeve is a contemporary business solution, featuring a quick access magnetic accessory panel with phone pocket and quilted High Density Foam protection.
Price and Availability
All Brenthaven cases and sleeves for Microsoft Surface are available at http://www.brenthaven.com. The Brenthaven collection of cases and sleeves for Microsoft Surface range in price from $39.95 to $129.95. All Brenthaven Microsoft Surface sleeves are large enough to accommodate the touch cover keyboard while it is attached to the tablet. All products feature a 100% Lifetime Guarantee and are crafted from high quality, durable materials, built to last.
About Brenthaven
Headquartered in Seattle, Washington, Brenthaven is the leader in the design and manufacture of premium protective cases for mobile technology that keeps today's and tomorrow's entrepreneurs connected and protected on the go. We exist to deliver peace of mind for your digital lifestyle. Visit http://www.brenthaven.com for more information or check us out on Twitter @brenthavennews and Facebook.com/brenthavennews for access to special deals on Brenthaven products. For Customer Service, call (800) 803-7225 or email info(at)brenthaven(dot)com.