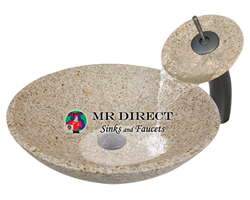 A variegated pattern of pastels, hinting of cream, salmon, olive and coral, blend together.
Toledo, Ohio (PRWEB) March 13, 2014
MR Direct is proud to announce the latest addition to its array of distinctive stone vessel sinks and faucets – the Model 850-Tan. In response to requests from numerous sources for a lighter-toned granite option, MR Direct searched for and discovered this new, exciting offering. A variegated pattern of pastels, hinting of cream, salmon, olive and coral, blend together to give this new stone bowl an extraordinarily-attractive, tan appearance.
The 850 is cut from natural granite into blocks just larger than the finished sink size. After being hand-chiseled into the general bowl shape, the drain hole is cut and the hand-polishing begins. This process continues until the stone is transformed into a smooth, symmetrical basin with a brilliant luster all its own. The natural finish resists stains and odors and is very easy to maintain.
As with all MR Direct stone vessel sinks, the 850 is designed to pair with its matching stone waterfall-style faucet. The faucet is taller than standard bathroom models to comfortably accommodate use of the large basin. This dramatic design allows water to cascade over the stone faucet disc and into the bowl, creating an overall aura of serenity. Additionally, in order to match any décor, the metal components of the faucet are available in one of the three attractive MR Direct finishes: chrome, brushed nickel or oiled-rubbed bronze.
As a package, the new tan 850 vessel sink and matching waterfall faucet are certain to please consumers interested in a more subtle stone option; but one that will still draw the attention and admiration of guests. Complete information about the 850, as well as any other MR Direct sink or faucet product, can be thoroughly reviewed by visiting MRDirectint.com.