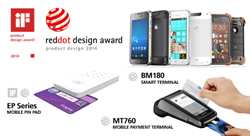 Seoul, Korea (PRWEB) March 13, 2014
Three Blubird's products have won Red Dot Design Award 2014, one of world's most famous design awards. The honor goes to BM180, MT760, and EP300 series. As these products integrate various function in one device and are designed in compact and sophisticated design at the same time, they refute the stereotype that enterprise terminals are big and heavy. Bluebird always has constantly been studying how to maximize work efficiency and convenience in various task environments from the early developing stage. And we are now proving our outstanding quality as we are sweeping many design awards such as IF, IDEA and Red Dot.
About Award Winning Products;

BM180 (Category : Industry and crafts)
World's first 5 inch handheld terminal with a barcode scanner. It is such an innovative product that meets numerous industrial needs and has sophisticate appearance. BM180 is also a multiplayer that can perform in a number of industry fields such as Retail, Healthcare, T&L, Field Service.
MT760 (Category : Computers and information technology)
A fulltouch all-in-one payment terminal has all functions such as contact and contactless payment, thermal printer and barcode scanner for field payment and store management. MT760 fulfills the highest secure level of PCI PTS 3.X with Side lock mechanism and provides numerous and handy usage with full touch LCD.
EP Series (Category : Communication (Telecommunication devices))
Mobile Pin Pad that connect to a host device (smartphone, tablet, mobile computer) through Bluetooth and perform mobile payment in various fields. EP series also satisfy a powerful PCI PED 3.1 security level. With its design and color, EP series can harmonize with any other device.
About Bluebird Inc.
Bluebird is a global provider of Pidion® payment terminals and enterprise mobility with more than 3000 customers in over 120 countries. Bluebird provides a wide range of solutions across all industry sectors to secure their electronic payments solutions, optimize workforce productivity and enhance customer interactions. Headquartered in Korea, Bluebird operates local offices in USA and China. To learn more, visit http://www.mypidion.com.
Red Dot Design Award
Red Dot Design Award is one of the best design awards with the biggest public confidence such as IF Award, IDEA. It has been annually awarded to designers and manufacturers since 1955. The winners will be exhibited in Red Dot Design Museum.
http://red-dot.de/