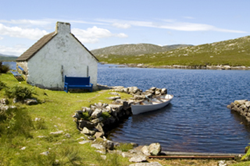 Toronto, ON (PRWEB) March 13, 2014
Butterfield & Robinson—the world's premier active travel company—will refine and expand its line up of private Ireland tours, offering travellers multiple ways to visit Ireland and immerse themselves in the Emerald Isle.
Building on its popular Ireland Family Biking and Ireland Bistro Biking trips, Butterfield & Robinson's new portfolio of ready-to-book luxury Ireland tours, starting with Ireland Biking Private, reveal the romantic landscapes, Celtic culture and welcoming spirit of the Emerald Isle.
"Ireland holds a special place in my heart, which owes as much to the rich Celtic culture and stoic landscapes, as it to does to Jack Dillon, my Irish-Catholic grandfather," says Trip Designer Tyler Dillon.
Fully customizable, on Dillon's Ireland tours you'll encounter the generous spirit of Ireland's beautiful west, whether visiting a local craftsman, enjoying a rousing evening of Guinness and folk music at an old-fashioned pub or biking along the breathtaking coastline. Ready-to-book luxury itineraries focusing on golf and Ireland's culinary culture will be available as of summer 2014.
Butterfield & Robinson—the world's premier active travel company—designs incredible journeys to the world's most amazing places. Crafted from the finest ingredients (exceptional lodgings, incomparable access, stellar wines and food, experienced guides and more than a few secrets), B&R trips combine adventure with unparalleled cultural immersion in the world's greatest destinations.
For more information on this trip and more, visit http://www.butterfield.com.