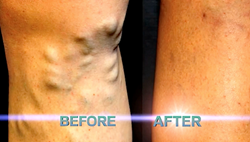 With No-Knife EVLT™ we can treat varicose veins without leaving a scar in the vast majority of cases.
Caldwell, N.J. (PRWEB) March 11, 2014
"Christine" is a corporate consultant who developed significant varicose veins on her right leg during pregnancy. "Only my right leg was affected, and the varicose veins became worse as time went by. Not only did they look terrible but they were very painful. The pain was even worse when I exercised," she says. "I stopped wearing shorts or going to the beach because I didn't want anyone to see my leg." After researching her options Christine consulted with cardiovascular surgeon Dr. David Greuner who treated her varicose veins with No-Knife EVLT™, a minimally invasive treatment he developed at NYC Surgical Associates. Dr. Greuner and Christine appear on "The Doctors" T.V. show in this story on No-Knife EVLT™.
"With conventional varicose vein treatments, a surgeon will make a small incision with a scalpel, then a sheath is used to introduce a laser, radio frequency or laser catheter into the blood vessel," says Dr. Greuner. "With No-Knife EVLT™ we can avoid cutting with a scalpel by using a very thin laser fiber combined with advanced laser technology. The laser fiber is designed to be able to slide through a needle, allowing us to treat varicose veins through a small pinhole without leaving long-term scars or other evidence of the procedure being done in most cases."
For more information, visit http://www.nycsurgical.net or call 888-286-6600.
Dr. David A. Greuner is the managing director and cofounder of NYC Surgical Associates with locations in New Jersey, Manhattan, Brooklyn and Long Island. He is a double board certified surgeon with over 10 years of experience.
Dr. Greuner is a diplomate of the American Board of Surgery and a fellow of the International College of Surgeons. He is licensed to practice medicine and surgery in New York, New Jersey, Connecticut, Massachusetts, Florida and Arizona.
Dr. Greuner was voted a "Top Surgeon" by the Consumers Research Council of America three years in a row, 2010, 2011, and 2012.
#####