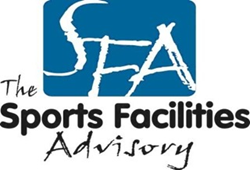 Myrtle Beach has those amenities that families want—it's an ideal market for a facility like this.
Clearwater, FL (PRWEB) March 24, 2014
Sports tourism—travel which involves either observing or participating in a sporting event—is flourishing; youth sports and sports-related travel is creating an economic impact of approximately $7 billion annually (1). Dev Pathik, CEO of the Sports Facilities Advisory (SFA), recently clarified the rise of youth competitive sports in a Forbes Sports Money segment, stating, "Parents have chosen organized sporting events and training, [hoping for] a college scholarship and as a means of creating structure to keep kids out of trouble"—which is largely the impetus for the sports tourism surge, per Pathik. The Myrtle Beach Sports Center in Myrtle Beach, SC, scheduled to open its doors in early 2015, is being developed with the help of SFA to attract new visitors and support the local economy. Under SFA's management, the facility is anticipated to impart a $30 million economic impact for Myrtle Beach within the first five years of its opening.
Recent reports indicate that sports tourism has prompted families and competitors to turn athletic events into mini-vacations, as evidenced by one of the many sports-tourism events in Florida—the First Watch Half Marathon race, held in Sarasota:
● Roughly 2,700 extra visitors came to Sarasota during the race to support family and friends;
● 77 percent of the 3,500 participants were non-local, and 41 percent of those participants stayed in hotels for an average of two nights;
● Revenue generated by the race increased by 10 percent from 2012 to 2013, and pumped $2.5 million into the local economy (2).
According to Pathik, the above only further enforces what SFA has been voicing for years: sports tourism is optimal for existing tourism destinations that offer affordable hotel rates, wide-range recreation amenities, dining and entertainment options—which all happen to be touchstones of the City of Myrtle Beach. Collectively known as the "Grand Strand," the Myrtle Beach area stretches 60 miles along the South Carolina coast, and is a seaside haven known for its family-oriented atmosphere. The area also receives over 14 million visitors annually (3).
While competition in the Southeast for sporting events is intense, with several sports complexes in the region, Pathik says that Myrtle Beach is a standout due to its existing lure as a holiday hotspot. The Myrtle Beach Sports Center already has over 20 events scheduled to use the facility in its first year.
"Myrtle Beach is part of a thriving trend designed to not only attract, but also increase visitor spending—amateur athletes travel with their families to play sports, but these families also want other forms of entertainment during their downtime between play," said Pathik. "Myrtle Beach has those amenities that families want—it's an ideal market for a facility like this."
The Mayor of Myrtle Beach, John Rhodes, agrees with Pathik and says he is confident that Myrtle Beach will continue its long standing place as a major player in sports tourism.
"With this development, we have taken the next step in our long term plan," said Rhodes.
The 100,000-square-foot Myrtle Beach Sports Center is built to cater to tournament play, with hardwood floors that can be used as eight basketball courts or 16 volleyball courts. There also will be a café, a retail area, and team rooms. (4)
SFA documented the complex's business model, management plan, economic impact and cash-flow forecast. As a private consulting firm and management service, SFA is responsible for booking tournaments and events, as well as managing facilities to support its government clients' objectives. SFA also assists public-sector clients in identifying and negotiating private-sector investment and/or private-sector use of facilities.
SFA's portfolio includes more than $3.5 billion in planned and operational facilities, as well as being the industry leader in the managing of such complexes. The company will assist in opening more than 1.5 million acres of additional indoor facilities, as well as 600 acres of outdoor facilities, within the next year.
For more information about the Sports Facilities Advisory and its suite of planning-funding-opening-management services, visit http://www.sportadvisory.com/home.html.
About the Sports Facilities Advisory:
The Sports Facilities Advisory (SFA) is the leading resource in sports facility planning and management. The Sports Facilities Advisory has helped to plan, fund, open and manage dozens of multimillion-dollar sports complexes in communities throughout the USA and internationally since its founding in 2003. The company serves public and private clients. It plans, funds, opens and manages, facilities that cater to community and youth and amateur sporting events. SFA's success depends upon its mission to dramatically improve communities through the opening or optimization of sport and recreation centers. For more information, visit http://www.sportadvisory.com/home.html.
1.Lane, Matthew. "Youth Sports Could Have $10 Million Impact in Model City in 2013." Timesnews.net. N.p., 05 Aug. 2013. Web. 08 Nov. 2013. timesnews.net/article/9065811/youth-sports-could-have-10-million-impact-in-model-city-in-2013.
2.Bergen, Katy. "Sports Tourists Bring Business to Sarasota." Heraldtribune.com. N.p., 3 Mar. 2014. Web. 6 Mar. 2014. heraldtribune.com/article/20140303/ARTICLE/140309916.
3."Myrtle Beach, SC." Myrtle Beach Resorts. N.p., n.d. Web. 6 Mar. 2014. myrtlebeach.com.
4.Bryant, Dawn. "Cost Rises on Myrtle Beach Indoor Sports Complex." Myrtlebeachonline.com. N.p., 23 Feb. 2014. Web. 7 Mar. 2014. myrtlebeachonline.com/2014/02/23/4051220/cost-rises-on-myrtle-beach-indoor.html.