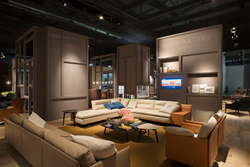 Houston, TX (PRWEB) March 12, 2014
Internum Houston is very pleased to share an important acknowledgment of Italian furniture maker Poltrona Frau's international success by now offering the Grantorino sofa.
The Grantorino sofa was designed in 2013 by Poltrona Frau and French designer Jean-Marie Massaud and was one of the winners of the 2014 Wallpaper* Design Awards for the category "Best Room Mates."
Wallpaper* is a prestigious international magazine point of reference in the design, fashion and lifestyle sector. For 10 consecutive years, the magazine has paid tribute to the people, places, pieces and phenomena that have caught its eye over the last 12 months. This year's awards were chosen by the editorial team alongside a panel of super-savvy judges which included Victoria Beckham, Spike Jonze, Thaddaeus Ropac, Michael Chow, Ron Gilad and Thom Mayne.
This important accolade underlines and consolidates the international success of the collaboration between Poltrona Frau and Massaud, who already had the honor of winning the Wallpaper* Design Award in 2007 with the Kennedee as "Best sofa" and in 2010 with the Archibald armchair as "Best domestic design."
Stop in and see the Grantorino now on display at Internum Houston, 3303 Kirby Dr., Houston, TX. For more information, visit http://www.internum.com.
About the company: At Internum, customers will find internationally-recognized European luxury furniture brands such as Minotti, Cassina, B&B Italia, Baxter, Flexform and Poltrona Frau, among many others. The way these brands work and treat the leathers, fabrics, woods and any other materials they incorporate in their artistic designs are some of the features that make them the preferred choice in the international high-end furniture industry. Since 2010, Internum has become known for their high-quality furniture and excellent service. Internum's Houston showroom is located at 3303 Kirby Drive and open from 10 a.m. to 6 p.m. Monday through Saturday, as well as noon to 5 p.m. Sundays. For more information, contact Internum at (832) 242-9470.