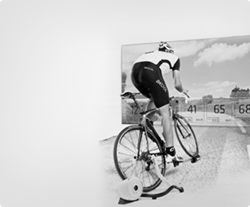 Being able to feel the resistance change creates a very true road experience for the rider.
Cochrane, Alberta (PRWEB) March 12, 2014
ANT Wireless, proven innovator in ultra low power (ULP) wireless technology, today announces the Member Early Release (MER) of the Fitness Equipment – Controls (FE-C) Device Profile. Creating the standardized platform for cross-brand interoperability, this profile enables bi-directional resistance control for ANT+ bike trainers, indoor cycling (IC) bikes and simulation systems (displays). Formerly known as Trainer Resistance, this profile will expand to include treadmills and other fitness equipment as well as group scenarios in the next revision scheduled for Q3, 2014.
Industry leaders participating in the ANT+ Technical Working Group (TWG) contributed to the development of this innovative profile, ensuring optimized functionality through the final stages of implementation. Among the first companies to bring this capability to consumers, TWG member BKOOL .com is already establishing a strong reputation for creating a ride that strongly mimics reality.
"Being able to feel the resistance change creates a very true road experience for the rider," said Pedro Tabernero, CEO, BKOOL .com. "ANT+ allows us to communicate in an easy and efficient manner that is always seamless to the final user. With this profile, riders get a wide range of functions while being able to choose their preferred ANT+ trainer."
"Working with the industry leaders to define this profile will definitely result in an optimal user experience," added Sebastian Barnowski, Team Lead Applications Engineering, ANT Wireless. "Our TWG members are very active in outlining their customers' needs and prioritizing features. We then bring in the ANT+ expertise and collaboratively build exceptional, interoperable, future proof specs."
The FE-C profile standards include:

Real-time speed, distance, elapsed time and power (optional) data transfers from trainers or Indoor Cycling (IC) bikes to displays
Use case example: Speed received from the trainer can be used to adjust the speed of the video – i.e. the video will match what you do. Start/stop/pause/ready status can be displayed.
Real-time control from the display to the trainer or IC bike. The display can send the fitness equipment a 'target power' value so that the trainer or stationary bike automatically adjusts the resistance.
Use case example: User sets their target power and the trainer monitors the cadence and adapts the resistance accordingly.
Optional Features:

Sending of simulation parameters describing wind and track resistance from display to the trainer or IC bike.
Use case example: The trainer uses the simulation values to adjust the resistance so that virtual hills and wind are 'felt' by the user as they ride.

Sending of resistance percentage in real-time to the trainer or IC bike.
Calibration support if required
ANT+ Member Spivi develops software for class-based gym and home environments and currently implements the base Fitness Equipment profile for the Spivi Studio edition. They will add the Control function to their programs this spring.
"We are excited about the functionality and experience this profile will bring to our consumers," added Nir Hasson, CTO, Spivi. "Being able to incorporate resistance is really useful. We love ANT+ technology."
Spivi will be showcasing their products at the IHRSA show in San Diego, March 12 – 14, 2014. The BKOOL .com program will be featured at IHRSA in the ANT+ booth #321.
As the first company to provide a combined indoor and outdoor experience within the same platform, BKOOL .com is unique for storing all the customer data and analysis in the Cloud, in real time. Additionally, riders are able to connect with other riders worldwide through the BKOOL social network program.
To learn more about the Advantages of the ANT+ TWG process, click here.
About ANT / ANT+ (http://www.thisisant.com)
ANT is an established protocol and silicon solution for ultra-low power (ULP) practical wireless networking applications and is the technology behind over 100M devices. Celebrating over 10 years in wearable technology, ANT is the pervasive ULP wireless technology facilitating the capture of critical market share in the exploding mobile sensor sector. This standardized communication platform enables quick-to-market solutions for application developers, sensor manufacturers, cell phone makers.
ANT+ facilitates interoperability between ANT+ products and the collection and automatic transfer of sensor data. Applicable in sport, wellness management and home health monitoring, ANT+ (built on the base ANT protocol) defines device profiles that specify data formats, channel parameters and network keys. ANT+ has amassed an ecosystem of world-class technology vendors in the ANT+ Alliance, an open special interest group of companies who have adopted the ANT+ promise of interoperability. These industry leaders offer readily-available brand name products for sport, wellness management and home health monitoring.
The company behind ANT Wireless is Dynastream Innovations Inc. (http://www.dynastream.com). Dynastream was established in 1998 and became a wholly owned subsidiary of Garmin Ltd. in December 2006. Dynastream is based in Cochrane, Alberta, Canada, and is a world innovator in the research and development of inertial and wireless technology.
ANT+ Product Directory (http://www.thisisant.com/directory)
The ANT+ Product Directory is a complete inventory of all ANT+ certified or verified products. It is a tool designed specifically to help consumers source hundreds of industry-leading devices and all compatible products within the vast ANT+ ecosystem. Apps and devices may be searched by product name, brand, activity or product category, allowing the consumer to create a monitoring system that meets their specific needs.
About BKOOL: http://www.bkool.com
About Spivi: http://www.spivi.com