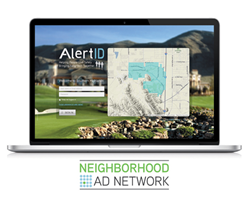 Geotargeted online advertisements at the zip code level have been shown to increase click through rates by more than 80%
Las Vegas, NV (PRWEB) March 12, 2014
AlertID, the fastest growing neighborhood social network, today announced the launch of its Neighborhood Ad Network, which is the first direct online advertising platform that makes it easy for national and local advertisers to reach consumers in more than 59,000 neighborhoods across the country online, on mobile apps and by email.
"Our advertising sponsors asked us to help them deliver advertisements targeted to our members by neighborhood, because neighbors often have common interests. Our new Neighborhood Ad Network allows them to reach consumers who are most likely to be interested in their products and services," said Ken Wiles, CEO of AlertID. "Geotargeted online advertisements at the zip code level have been shown to increase click through rates by more than 80%, and we expect advertisements on a neighborhood level to produce even better results. "
The Neighborhood Ad Network represents a significant improvement in direct online advertising targeting. Until now, advertisers have, at best, been able to target their online advertisements to zip codes to reach specific communities. This frequently leads to misdirected advertising if, for example, a zip code includes multiple neighborhoods with differing types of consumers.
Using standard neighborhood definitions, the Neighborhood Ad Network enables advertisers to target specific neighborhoods, locally or nationally, to deliver meaningful advertisements. The luxury car dealer, for example, might chose to advertise in a new upscale neighborhood, while the local pizza parlor may chose only those neighborhoods where it delivers.
AlertID delivers more than 25 million impressions per month via its mobile, online and email platforms that help neighbors engage with one another and receive important public safety alerts. AlertID's members are community leaders, engaged family members and influencers across the country. Membership grew by more than 800 percent in 2013, and continues to expand across the country. The Company has major partnerships with the National Crime Prevention Council, the Department of Justice and law enforcement agencies, among others.
The Company does not share any member's personal information with its family friendly advertisers who help ensure that AlertID remains free for members and law enforcement.
The Neighborhood Ad Network has launched on the West Coast, and will expand across the U.S. over the next few weeks. To learn more please contact AlertID at sponsor(at)AlertID(dot)com.
About AlertID
AlertID is the fastest growing neighborhood social network, driven by trusted safety alerts and neighbor communication. Alerts are provided by trusted sources including neighbors, public safety agencies, local law enforcement, neighborhood groups, family members and friends. AlertID has members in all 50 states and more than 85% of all US Zip Codes. To sign up for free, go to http://www.AlertID.com.
Become a fan of AlertID: Friend us on Facebook | Follow us on Twitter