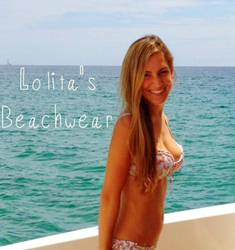 I vow not to let my disability hold me back, I wake up everyday and use it as a source of inspiration.
(PRWEB) March 12, 2014
Lolita's Beachwear today announced that Cayetana Uranga, the owner of Lolita's Beachwear will make a push for a slice in the American fashion world by launching her new online store Lolita's Beachwear. Born in Lima during the shining path terrorist incursions, Cayetana was diagnosed with Cerebral Palsy. Her encompassing story of struggle is reflective of a special entrepreneur who did not and will not bow to her disability.
While simple movements pose a serious challenge, Uranga has never doubted herself. She's a graduate of Lynn University with a degree in business, specializing in Fashion Management. She can drive, walk her signature walk and can speak fluent English and Spanish. Uranga, who has a sweet personality and alluring appearance, has a distinctive eye for fashion.
Her dream, ever since she was a little girl, was to be the owner of a swimwear line/store. Therefore, when the time came, she laid down the foundation, created her company and chose to import from her country.
Her online store – http://www.lolitasbeachwear.com - is full of high-quality, beautiful Lycra bikinis and swimsuits that last for several seasons. She caters to all body types so that every woman on the Florida beach can feel comfortable and beautiful in her Lolita's Beachwear bikini or swimsuit.
Lolita's Beachwear wants to introduce Toque D' Sol and Palheta lines to the United States. Toque D' Sol and Palheta bikinis are from Lima, Peru and now available at http://www.lolitasbeachwear.com
Ms. Uranga is striving for her store's success, and believes that she has a great product. Her goal is to provide the best beachwear to all women. As the business continues to thrive, her goal is to assist people living with Cerebral Palsy. And, she will do this by donating a portion of every bikini sale to the UCPA. Spread the word about Lolita's Beachwear to make a difference in the lives of those suffering with this condition.