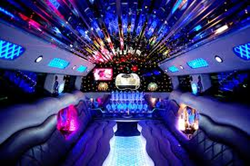 Orlando's Best Limousine Company
Orlando, Florida (PRWEB) March 13, 2014
Super Star Limo Service, an Orlando, Florida limousine service, announces today the hiring of John Brown as Regional Business Development Manager, Orlando, Florida. Mr. Brown will oversee business development efforts throughout Central, FL, including, Orlando, Winter Park, Kissimmee, and Port Canaveral. Additionally, he will be responsible for Super Star Limo's generation of business leads as well as the ongoing development of new clients.
"John brings passion and dedication to our team and is very knowledgeable about the luxury transportation industry," states Sam Menon, Super Star Limo's President and CEO. "Our team is looking forward to coupling his proven sales track record with our industry leading limousine services in the Orlando area."
Mr. Brown will graduate in 2015 from the University of Central Florida with a Bachelor of Science Degree in Marketing and a Minor in Entrepreneurship. He is a member of AOPA and enjoys flying as a hobby. Mr. Brown is active in a number of causes throughout Central Florida.
Mr. Brown previously worked as a business development manager for Digital Strategy Lab where he oversaw new business development and the retention of existing clients throughout Orlando, Florida and the surrounding areas.
About Super Star Limo Service
Super Star Limo Service has grown to be one of the premier providers of Orlando Limousine Services. Super Star Limo Service specializes in limo rental services for people who choose luxurious travel in Central Florida.
Super Star Limo Service has a fleet of luxury limousines containing a substantial selection of elegant amenities. Limousine services are available 24 hours a day, 365 days a year for the Central Florida area. The professional drivers of Super Star Limo provide first class service to their passenger while exceeding expectations.
Contact Info for Super Star Limo Service
Phone: (407) 207-5466
Hours: 24 hours Monday – Sunday