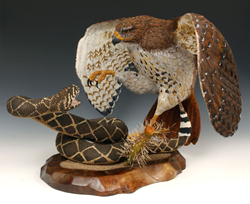 (PRWEB) March 12, 2014
Bruce Taylor's love of art began as a child and has continued through adulthood. He started drawing and painting at age 9, then took a course from the Northwest School of Taxidermy in Omaha, Nebraska. "My first mount was a ring-necked pheasant that I shot with a Shakespeare long bow. That was the start of my career." Bruce launched his own taxidermy business in the late 1980's and mounted all species of animals including fish, birds and mammals. He then decided to combine his taxidermy knowledge with his artistic talents. After one year, he entered the New Mexico National Taxidermy Association Competition, under the reproduction category, and it was there that he was quickly recognized as having a special gift and was awarded "Judges Best of Show". Since that day, Bruce has focused his abilities on woodcarving. He is best known for recreating one of a kind wildlife sculptures but, of course, specializes in fish.
Working with wood gives Bruce the ability to create any type of wildlife he wants; in any position and in any size. Over the last ten years, Bruce has expanded from fish carvings to a variety of turtle species and birds, including puffins, hawks, and eagles. Bruce begins by shaping the body, and then burns all the details of the piece into the wood, using a wood burning tool, including every scale and/or feather to create the most realistic texture. Each piece is created with attention to detail, anatomical correctness and world-class painting techniques - using hand mixed paint colors that are air brushed and hand painted.
In addition to Bruce Taylor's fine sculptures, this juried festival hosts more than 125 nationally acclaimed, award-winning artists from throughout the country and abroad; in addition to unparalleled wine tasting. For $10 patrons receive an engraved souvenir wine glass, with tasting tickets, allowing them to taste wines from throughout the United States and beyond. This unique event brings together fine art, wine tasting, delectable food, mouthwatering confections and live musical entertainment - featuring Elijah Bossenbroek, Tony de Grassi and Keith Johnson.
Elijah Bossenbroek was born and raised in Grand Rapids, Michigan. At age six, when other children were playing with toy cars, Elijah started playing the piano.
His parents could tell he wasn't a typical piano player, as he often hated the dull repetition behind learning notes and playing to metronomes. Frustrated, he began writing his own compositions at age fourteen. After his eighteenth birthday, he enlisted in the United States Marine Corps, where he spent the better part of five years traveling to places around the world. Upon his return from the deserts of Kuwait, Elijah purchased a home recording studio and began working on his first album, "Harmony In Disarray,". After gaining a lot of popularity and momentum in the music industry, he signed a record deal and produced his anticipated second album "Carpe Lumen". Tony de Grassi is a guitarist and songwriter whose voice captivates audiences of all ages. Keith Johnson is sure to get toes tapping with his Caribbean steel drum music too.
This event is located in the home to "One of the world's tallest fountains", Fountain Hills. At full power, the fountain rises 560 feet into the air and runs for approximately 15 minutes at the top of the hour, from 10a.m. to 9p.m. daily and on March 16th, the fountain will be dyed emerald green in celebration of St. Patrick's day.
Thunderbird Artists has been selected for the 2013 Best of Fountain Hills Award (in the Art category) by the Fountain Hills Award Program. Each year, the Fountain Hills Award Program identifies companies that are believed to have achieved exceptional marketing success in their local community and business category. These are local companies that enhance the positive image of small business through service to their customers and our community. These exceptional companies help make the Fountain Hills area a great place to live, work and play.
Mark your calendars for an unforgettable weekend and the last festival of the season at the Fountain Hills Fine Art & Wine Affaire, March 14th, 15th & 16th! The festival will take place on Avenue of the Fountains, between La Montana and Saguaro Blvd.