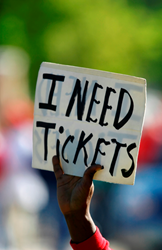 Without our Anti-Scalping Suite, you will see a $5 ticket to a craft beer release sold through secondary ticket sellers for more than $1,000. That kind of profiteering is not good for the fans, the artist, small business or the venue selling the tickets.
Seattle, WA (PRWEB) March 12, 2014
Brown Paper Tickets, the socially conscious vanguard of free online ticketing and event registration, introduces the industry's first Anti-Scalping Suite for any event. Eight technology tools empower event organizers with everything they need to increase sales, stop scalpers, protect fans and control profits made from the resale of tickets to their events.
"Our Anti-Scalping Suite gives event organizers and venues the ultimate power to control every dimension of their sales and profits," said Steve Butcher, CEO of Brown Paper Tickets. "Performers can build deeper relationships with their fans and make those initial connections count more by repeating the point of sale for the aftermarket. This is a powerful addition to our arsenal of free technology and resources to help anyone to plan, promote, sell out, and manage the business-side of events."
The eight tools in the Anti-Scalping Suite include ticket reselling, ticket auctions, automated blocks on IP addresses that attempt repeated transactions, tools for event organizers to limit the number of tickets that can be ordered per buyer, enable walk-up sales, activate limited-time pre-sale and discount codes, and register purchasers for tickets that must be validated with photo identification at the door.
With ticket reselling, event organizers can enable fans to resell their tickets directly through BrownPaperTickets.com, assuring all parties that their transaction is legitimate and safe. "There are a lot of bad things that can happen for people trying to buy tickets to sold-out events, such as counterfeit tickets and speculating," said Butcher. "Offering a safe, secure, way to sell resell tickets that is controlled by the event producer is a benefit to everyone."
The event producer controls the percentage of the split on profits. Brown Paper Tickets charges its regular 99-cent fee, plus 3.5 percent of the ticket price, which includes any bank fees for the credit card transaction, and includes delivery of the ticket in the form of the event producer's choice as well as 24/7 live customer service in English, Spanish or French.
"Ticket buyers love the ease and safety of being able to resell their ticket without the hassle and fear of meeting strangers on a street corner," Butcher said. "And, the average fees for these transactions on the resale market often add up to more than 20 percent of the original ticket price. It's easy to see that our technology and pricing is the best in the market for any event."
The types of events that most-frequently use the resale option are concerts, comic book conventions, craft beer releases and nonprofit benefits. "Without our Anti-Scalping Suite, you will see a $5 ticket to a craft beer release sold through secondary ticket sellers for more than $1,000. That kind of profiteering is not good for the fans, or for the artist, small business or venue selling the tickets," said Butcher.
Ticket auctions hosted on Brown Paper Tickets enable event producers to sell a specific a number of tickets at a fair market price. The highest bidders receive the tickets, with 100 percent of the proceeds going to the event producer, after the Brown Paper Tickets ticketing fee. There are no charges for entering an auction that the bidder does not win.
"When tickets are sold for their market value, there ends up being no room for profiteering," said Butcher. A July 2013 study from the University of Chicago Graduate School of Business showed that primary-market auction price of a ticket only varies from its secondary-market value by around 2 percent. "In 14 years of offering free, state-of-the-art technology and services to event organizers and the lowest ticketing fee in the industry, we have demonstrated that keeping as much money in the pockets of our event producers and ticket buyers as possible is a great business model for all."
For more information on the Brown Paper Tickets Anti-Scalping Suite, go to http://community.brownpapertickets.com/wp/anti-ticket-scalping/.
###
About Brown Paper Tickets (http://www.BrownPaperTickets.com): Brown Paper Tickets is a socially conscious global leader in online ticketing and event registration services, helping people in 68 countries to plan, promote and sell out events. As a social innovator, the company donates 5 percent to charities with every ticket sold, supports a team of full-time community advocates, called "Doers," and still charges a ticketing fee that is lower than competitors. How do we do it? The dirty little secret in the ticketing industry is that it doesn't cost that much to ticket events. To learn more about the world's only Not-Just-For-Profit ticketing company, visit http://community.brownpapertickets.com/press/.