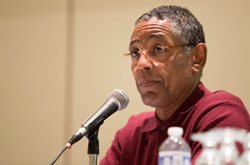 (PRWEB) March 14, 2014
TVRage.com's Senior Writer Anthony Marcusa recently attended a panel at Toronto ComiCon, where he listened to 'Revolution' and 'Breaking Bad' actor Giancarlo Esposito chat about his acting talents, his wisdom regarding global action and being a superhero.
Here's an excerpt from the panel:
"As 'Revolution' holds great meaning with the actor now, so too did 'Breaking Bad.' What compelled Esposito, who was born in Copenhagen to an Italian father and African American mother, to take the role was a story he had read about two Mormon missionaries. They fell into meth addiction and instead of being in service to their faith, they were slaves to drugs. "There is a problem in our country with drugs, as people are looking for a connection they that are not getting. I wanted to be a part of a show that exposed this to a massive amount of people."
"Granted, you didn't watch the show because it was an anti-drug show, and it may sound a little odd that that's why I took the role, but it is," he added. "The more we understand the connections, the more we take a hard look at not only our communities, but ourselves."
With both the characters of Tom Neville on 'Revolution' and Gus Fring, Esposito explained, he instilled them with something innate. "I know in a previous life I was a warrior, a soldier. Part of me being able to display Tom Neville the way he is and Gus Fring before him is that I have been in those situations. We have a memory of our previous existence, if we only take the time to…breathe. Everything you need to know is inside you."
So, in between challenging the crowd on the state of being, and after covering such topics such as his enjoyment of playing a genie on 'Once Upon a Time,' a guest spot on 'Community' ("that's a freaky show" he declared with a big smile), and his desire to play the president on screen (and maybe be one in this life or the next), Esposito chatted 'Breaking Bad.'"