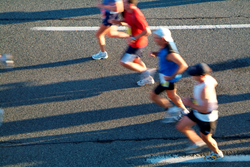 Boston, MA (PRWEB) March 12, 2014
The Boxer, Boston's newest boutique hotel, is offering a new way to enjoy the Boston Marathon, one of the city's most anticipated and notable athletic events. Fit for both runners and supporters, The Boxer is offering a retreat – complete with delicious replenishments – for those looking to unwind after a historic day of accomplishment and celebration in the Commonwealth.
The "Marathon Monday Wine Down" package at The Boxer is ideal for Boston Marathon spectators and participants alike and includes the following:

Overnight accommodations
Celebratory dinner-for-two with a bottle of wine at the hotel's restaurant, Finch
Breakfast for-two at Finch the following morning
The "Marathon Monday Wine Down" hotel package is available on Monday, April 21 with rates starting at $509 (based upon double occupancy; tax and not included). The Boxer is located at 107 Merrimac Street, Boston, MA 02114.
ABOUT THE BOXER:
The Boxer is a full service boutique hotel located in the heart of downtown Boston, near TD Garden, Mass General Hospital and the North End. The 80-room hotel is uniquely modern and eclectic with echoes of Boston in its design, and tells its story through design, artwork, distinguished standards, and most importantly, personalized and intuitive service. Following an extensive renovation and rebranding initiative, HHM's Independent Collection unveiled its new hotel in May of 2013, along with its new bar and restaurant, Finch. The Boxer name is symbolic of, and celebrates, the independent spirit of individuals who stand strong for their beliefs, bringing forth the very essence of Boston as a proud, loyal city with an unshakeable sense of itself and its significance in history. For more information, please visit http://www.theboxerboston.com or call 617.624.0202. Follow The Boxer on Facebook and Twitter. This promotion is brought to you solely by The Boxer. The Boxer is not sponsored by or affiliated with TD Garden or the Beanpot Hockey Tournament.
ABOUT FINCH:
Located within The Boxer, Boston's newest boutique hotel in Boston's West End neighborhood, Finch serves American fare with a modern New England influence for breakfast, light bites and dinner. Finch also offers a handcrafted cocktail program, rooted in the classics using modern twists and techniques. Many of the cocktails' names pay homage to The Boxer's surroundings, name and the city of Boston itself. Finch is open seven days a week from 6:30 a.m. until 10:00 p.m. and the bar shakes up cocktails through 11:00 p.m. on Friday and Saturday. Finch can accommodate up to 70 guests and is available for events, functions and meetings. Finch is located within The Boxer at 107 Merrimac Street in Boston. For more information, please visit http://www.theboxerboston.com/dining or call 617.624.0211. Follow The Boxer on Facebook and Twitter.
ABOUT THE INDEPENDENT COLLECTION:
The Independent Collection is a growing collection of smaller, more intimate boutique lifestyle hotels located in truly unique neighborhoods of gateway cities across the US. The collection is founded on the principles of authenticity, leadership, generosity, and modesty. Hotels of the Independent Collection are created for the independently minded traveler.