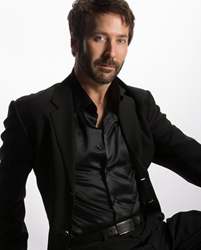 "The interior design of your home should be an exciting experience for you," Steven Favreau emphasizes. "Our clients are not afraid to share the journey of creating some of the most dynamic, stylish and livable residences on both coasts."
Boston, MA and San Francisco, CA (PRWEB) March 12, 2014
Interior designer Steven Favreau, one of the top interior designers in the Boston and San Francisco areas, will be a featured speaker at the First Annual Boston Design Week, a 10-day citywide design festival, taking place March 20-30, 2014.
Steven Favreau's dramatic interior design brings together the best of contemporary interior design with classic elements, courageously mixing current styles with fine antiques, vibrant colors, bold textures and whimsical, surprising or even irreverent elements. His unique high-end interior design style has garnered accolades for its fresh approach, and has been featured in Design New England, California Home + Design, San Francisco Chronicle Stylemakers, Houzz.com and numerous others.
Twice a semi-finalist on HGTV's hit home decorating interior design show, Design Star, as well as a contestant on HGTV's White Room Challenge, Favreau approaches each new project with vision and passion. Now, a decade after launching a successful interior design firm in San Francisco, he has opened a second office in his native Boston.
As part of Boston Design Week, Favreau will be a featured speaker for a unique event titled, "Welcome home, Mr. Otis. Your 1796 home is ready for 2014", presented by Design New England magazine. Otis House, built in 1796 for Harrison Gray Otis (onetime Mayor of Boston) still stands, the last of the grand mansions in Boston's West End. If Otis were alive today, he'd be a homeowner looking to renovate for his own style and needs, while taking care to preserve the historic relevance of the property. Favreau will "re-imagine" the historic home's Withdrawing Room for today.
Favreau is no newcomer to mixing old and new in his interior design style. He was featured on the cover of the Design New England Nov/Dec 2013 issue for the contemporary transformation of the 1832 Federal style home he shares with his husband Gary Decad in Vermont. His signature residential interior design style is known for attention to detail and quality, mixing elegant timeless furnishings with modern objects in a playfully eclectic yet symbiotic way. The result is luxury interior design that is at once stylish and respectful of the unique features of the architecture and the surrounding landscape in every way.
Favreau studied interior design at the internationally recognized Fashion Institute of Technology in New York, yet he came to the world of design in a way that distinguishes him from other interior designers. Growing up in Boston, he originally trained in musical theatre and dance at the Boston Conservatory. He left for Paris where performed as a soloist at the Moulin Rouge, and appeared on European television, and then went on to perform on cruise ships, becoming a cruise director for American Hawaii Cruises. His performing arts background now serves him well as a frequent and accomplished speaker at design festivals and events across the country. Throughout his travels, Favreau honed his interior design expertise and eye for fine antiques, lighting, wallpaper, textiles and the other elements that now inform his interior design palette, ensuring his clients a world-class perspective.
For additional information on Steven Favreau, visit http://www.FavreauDesign.com.
The Boston Design Week program, which is free and open to the public, will be offered twice on Wednesday, March 26th at 1:00pm and 5:15pm at the Otis House at 141 Cambridge Street in Boston. For more information and to RSVP, please visit http://www.BostonDesignWeek.com.
The First Annual Boston Design Week, a 10-day citywide design festival, will take place March 20-30, 2014. Participating organizations, businesses, sponsors and individual designers will offer 80+ design events, exhibitions, speakers, receptions, behind-the-scene tours, and other activities throughout greater Boston, most offered free of charge and all open to the public. Calendar Highlights have now been posted at http://www.BostonDesignWeek.com, and a complete calendar of events is now online.
Boston Design Week is produced by Fusco & Four/Ventures, LLC in Boston. Tony Fusco and Robert Four are well-known arts promoters and producers in Boston. For 35 years, their marketing and public relations agency Fusco & Four has specialized in fine art, design, antiques, online arts-related ventures, cultural organizations, performing arts, luxury products and services, lifestyle clients, and authors and publishers.
They are also the producers of three annual art and design shows in Boston: AD20/21, which includes The Boston Print Fair, and which will be one of the anchor events in the new Boston Design Week; The Ellis Boston Antiques Show, re-launched in 2011; and The Boston International Fine Art Show, celebrating its 18th anniversary in November 2014. For more information on all of the shows produced by Fusco & Four, please visit http://www.BostonArtFairs.com.