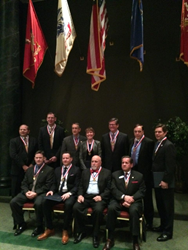 Albuquerque, NM (PRWEB) March 13, 2014
ACC Health LLC was enrolled in the Legion de Lafayette in recognition of their extraordinary service to the National Guard Educational Foundation on Saturday March 8, 2014. Established in 1975 as a non-profit organization, it is the goal and mission of the NGEF to tell the story of the National Guard. Each year the NGEF honors individuals, corporations, and National Guard organizations for exemplary services and contributions to the foundation. ACC Health was presented with a medal similar to the regimental medal commissioned by the Seventh Regiment for presentation to the Marquis de Lafayette in 1832. Currently there are over 300 corporations, National Guard units, and individuals, including former president Ronald Reagan, inducted into the Legion de Lafayette.
"ACC Health is privileged to support NGEF and give back to the organization that has meant so much to our company," said Ginny Berger, CEO. "Our country must understand the incredible wealth of history that National Guard represents and we must assure present-time heroes are acknowledged. ACC Health is honored to be a partner to this great organization."
The Legion de Lafayette, created in 1988 to recognize and honor patrons that significantly advanced the Foundation's work, commemorates the long-standing and historic relationship between the distinguished French soldier and the American Minutemen he served with during the Revolutionary War.
"We are thrilled and humbled to receive such a generous donation from ACC Health that will go a long way in our efforts to preserve and share the rich story of the National Guard," said Maj. Gen. Steve Danner, the NGAUS and NGEF chairman of the board.
About ACC Health:
ACC Health LLC provides National Guard units all over the nation with high quality, on location medical and dental care to help increase readiness rates in our nation's service members. Our medical and dental teams provide compassionate care all over the country, ensuring that all branches—Army, Navy, Air Force, Marines and National Guard—are medically ready.
For more information about ACC Health, please visit http://www.acchealthcare.com.
Contact: Carly Loranger, Marketing Director
Telephone: 505.323.1300
E-mail: carly.loranger(at)acchealthcare(dot)com