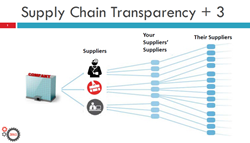 Irvine, CA and Herndon, VA (PRWEB) March 13, 2014
Paladion and 3PAS announced yesterday the formation of a long-term strategic partnership to offer 3PAS supply chain credentialing and risk assessment services to organizations in North America, EMEA and Asia. This partnership brings global reach to 3PAS and benefits Paladion customers by providing them with a cost effective way to comply with data security and privacy requirements focused on how well their suppliers are protecting their data.
As recent breaches have demonstrated, often the weakest data security link in a company's chain is one of its vendors. Companies often lack the budget and personnel to focus on how well their suppliers protect their data despite the fact that they are ultimately liable for any unauthorized disclosures. 3PAS has created a simple online experience for vendors to determine the level of risk they pose to their customers but more importantly, it allows vendors to gather data security risk information about service providers in their own supply chains.
"Combining our global data security and privacy expertise together with 3PAS's ability to provide transparency 'n' levels deep into a company's supply chain, will transform the way our customers approach vendor risk management. Until 3PAS came along, there hasn't been a cost effective way for companies - large or small - to comply with regulations requiring them to understand security and privacy risks posed to them by their suppliers – and their suppliers' suppliers - and so on", said Sachin Varghese, EVP, Paladion. "By partnering with 3PAS, we've created a simple, cost effective way to help vendors comply with customer requirements and at the same time learn how well their own suppliers are protecting their data. Think of it like LinkedIn with its 1st level, 2nd level and 3rd level connections. It's truly revolutionary!"
As part of the partnership, Paladion will offer its extensive expertise to suppliers required to remediate weak controls and other areas of exposure with its comprehensive suite of cloud security products and services to accelerate remediation cost effectively. There are an estimated 28 million small businesses in the U.S. and 125 million worldwide. Of those 28 million US businesses, 92 percent have fewer than four employees and are ill equipped to comply with the ever changing demands of the data security landscape. "The first step toward understanding the level of risk your vendors bring to the table is to conduct an objective, repeatable risk assessment on them based on an internationally recognized security standard like ISO27001/2. Armed with the results, you can take action. 3PAS provides an affordable assessment solution that can easily be folded into a vendor's 'cost of doing business' bucket regardless of the size of the company", said Rick D'Angona, 3PAS Founder. "We're honored to have a company of Paladion's caliber join us in our mission to shine a bright light into the dark recesses of 'vendor risk'".
About Paladion
For over a decade, Paladion has been actively managing information risks for over 700 customers across 30 countries. Paladion provides a complete spectrum of information risk management including security assurance, compliance, governance, monitoring, security analytics and security management services to large and medium sized organizations. With offerings that have been recognized and awarded by Gartner, Asian Banker and Red Herring, Paladion is actively involved in several information risk management research forums and has authored many books on security topics. Paladion's US Headquarters are located in Herndon, VA.
Contact Paladion: http://www.paladion.net
About 3PAS
3PAS was founded on the principle that risk assessments should be universally accessible and shareable between companies doing business together as part of the global economy. As more and more businesses increase their reliance on external entities to help them meet their strategic objectives, it is more important than ever to identify risks that are a byproduct of these relationships and outside their control. 3PAS is privately held and based in Irvine, CA with offices in Dallas, TX.
Contact 3PAS: info(at)threepas(dot)com