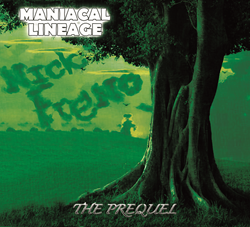 New York, NY (PRWEB) March 12, 2014
Coast 2 Coast Mixtapes announce the release of the "Maniacal Lineage Volume 1 (The Prequel)" mixtape by Nick Freno. The 23 track project is currently available for download. The mixtape features appearances from Blu-V, Coop, and Haasha.
Nick Freno is a rapper from Queens, NY. Nick Freno has earned himself the title "Hip-Hop's Savior" by developing his craft to the point that his raw lyricism is undeniable whether you are an old school gangster or mainstream pop party animal. Rejecting the shallow watered down rhymes found on many of today's radio rap records, Nick Freno has spent over a decade devoted to Hip Hop developing a lyrical artillery unmatched in the game today.
Freno's upbringing found him predisposed to violence as he was bombarded with images of violence in his neighborhood and in the media. This fascination with violence pushed Freno to seek out confrontation and focused his writing on living out the violent scenarios that occupied his imagination. After doing some soul searching Freno realize his obsession with confrontation was the result of his environment and the media.
Nick Freno's debut project "Maniacal Lineage Volume 1 (The Prequel)" tackles the realization that violence is often the result of ones environment head on as the mixtape explores the mind of a killer through a series of excerpts featuring famous serial killers being interviewed before their execution. This rare opportunity to address a universal human condition from a new perspective makes the "Maniacal Lineage Volume 1 (The Prequel)" mixtape a one of a kind listen. The mashup of Freno's previous works and the passionate testimonials of the maddened murders leads the listener to ask themselves, "are we trained to be violent?" Indulge yourself in this entertaining but dark social commentary and keep up with Nick Freno on his Twitter page at @NYNiCKFReNo.
About Coast 2 Coast Mixtapes
Coast 2 Coast Mixtapes are the most widely distributed mixtapes in the world, with over 100 million downloads/plays generated by over 200 volumes officially hosted by major artists. Coast 2 Coast has a solid reach in the new music industry with a digital magazine, DJ coalition, industry tips blog, yearly convention, and more. Coast 2 Coast Mixtapes represents a unique opportunity for artists of all urban genres, from major to indie. For more information, visit http://www.coast2coastmixtapes.com.