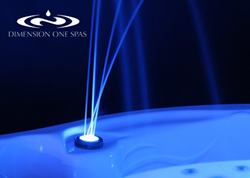 Carlsbad, CA (PRWEB) March 11, 2014
Dimension One Spas (D1) is offering 0% financing for up to 36 months on select hot tub models during the National Hot Tub Day Celebration at dealers across the country from March 14th-31st. Customers are encouraged to visit their local dealer for details.
National Hot Tub Day is officially on March 28th. It's a day to celebrate relaxation and the power of hydrotherapy achieved from a rejuvenating hot tub soak. Hot tubs provide a long list of health benefits including improved circulation and blood pressure, decrease in pain and inflammation due to ailments like arthritis and fibromyalgia as well as improved sleep quality and overall mood as endorphins release while you soak.
The best way to know if a Dimension One spa is right for you is to visit your local dealer for a wet test. With over 20 models to choose from that include 2 person hot tubs up to 7 person hot tubs, there is a hot tub that can fit your lifestyle and backyard.
About Dimension One Spas
Dimension One Spas (D1) is the leading manufacturer of award-winning hot tubs and swim spas and home to the world's first curvilinear spa. D1 Spas is based in Carlsbad, CA and sold through a network of dealers in the United States and worldwide. With over 35 years of experience, the company's four product lines and patented features offer a unique class of design, performance and value for a stunning finish to backyards and patios around the world. For more information about Dimension One Spas, please visit: http://www.d1spas.com.