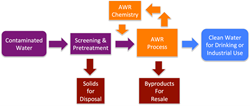 A game changing process for economically treating the worlds most challenging water and wastewater treatment.
Rapid City, SD (PRWEB) March 13, 2014
AWR's multi patent pending process uses a recoverable chemical saturation to concentrate and precipitate dissolved salts out of any water stream, at ambient temperature, making all of the water suitable for reuse or surface water discharge. The resulting >80% dry solid waste can be selectively separated for valuable byproducts, or disposed of in an ordinary landfill. Total Dissolved Solids (TDS) concentrations of well over 300,000 mg/l are reduced to less than 150 mg/l or lower in the discharge, with zero liquid waste streams. This is accomplished at dramatically reduced operating and capital costs, compared to existing treatment technologies.
The AWR process has wide ranging applications, from toxic mine water treatment to economical total water recovery on existing desalination plants, converting high dissolved solids liquids into clean usable water and zero liquid waste.
Advanced Water Recovery is currently constructing a commercial Produced Water treatment facility in the Marcellus shale region in Pennsylvania, which is expected to be operating in summer of 2014. The company is currently seeking commercialization partners.
For more information, http://www.advancedwaterrecovery.com.
Phone: (605) 721-7434, or info(at)awrgroup(dot)net.