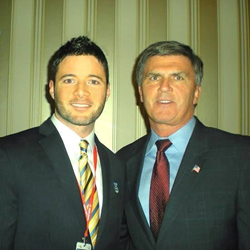 "I'm thrilled to receive Governor Ehrlich's endorsement," said Miele. "In many ways, I'm following in his footsteps, running for the House of Delegates in Baltimore County right out of law school."
Baltimore, MD (PRWEB) March 12, 2014
Christian Miele, a Republican candidate for the Maryland House of Delegates in District 8, will be endorsed by former Maryland Governor Bob Ehrlich at a fundraiser later this month. Ehrlich joins a growing list of community and political leaders to endorse Miele, which includes District 8 Delegates Joseph Boteler and John Cluster, and Baltimore County Councilman David Marks.
Miele, 33, announced his candidacy for state delegate this past July. District 8 represents the communities of Parkville, Perry Hall, White Marsh, Rosedale, Overlea, Carney, Fullerton, and Nottingham in east Baltimore County.
"I'm thrilled to receive Governor Ehrlich's endorsement," said Miele. "In many ways, I'm following in his footsteps, running for the House of Delegates in Baltimore County right out of law school." Ehrlich spent eight years in Annapolis as a state delegate before serving four terms in the U.S. House of Representatives and one as Maryland's chief executive.
Ehrlich will make the formal endorsement at Miele's fundraiser on March 27 at Red Brick Station in White Marsh. Red Brick Station is a locally-owned restaurant and brew pub that is a popular spot for Baltimore County residents. The first fifty people to purchase a ticket for the event will receive a copy of Ehrlich's new book, America: Hope for Change, which the former governor will sign and personalize on site. General admission tickets are $49.95, and include light hors d'oeuvres, soft drinks, and a cash bar. VIP tickets are $100, and will include all of the above, plus a VIP hour with Miele and Governor Ehrlich before the start of the event. Tickets can be purchased online here.
Miele has attracted support from registered voters in both major political parties, as well as local residents who identify as being independent. He is running on a transpartisan platform that focuses on government accountability, education, job creation, public safety, and improving the overall quality of life in east Baltimore County.
A resident of Perry Hall, Miele currently serves as an alternate delegate on the Baltimore County Republican Central Committee for the Sixth Councilmanic District. He will appear on June's primary election ballot as well as November's general election ballot by virtue of the uncontested GOP primary in District 8. Christian connects with voters via Facebook at http://www.facebook.com/miele2014. He can also be reached via email at christian(at)christianmiele(dot)org.